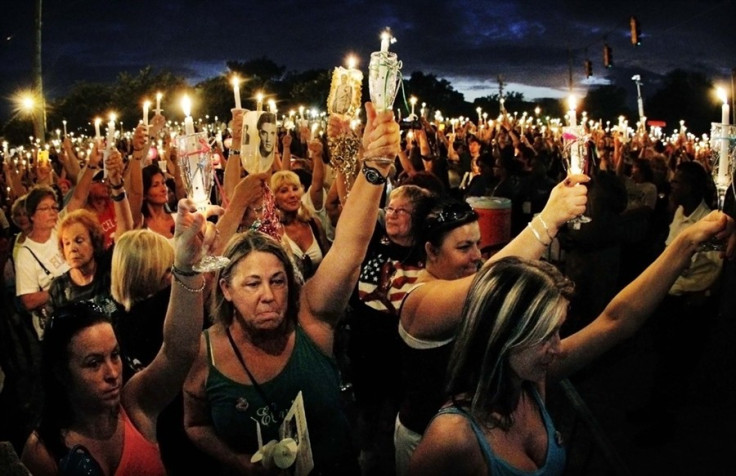 Every year, thousands of Elvis devotees flock to Memphis to remember the singer's death on Aug. 16, 1977. The main event of "Elvis Week" is the solemn candlelight vigil at Graceland, his longtime home, at midnight Tuesday reports Fox News.
And this year proved no different as fans gathered over Elvis Presley's grave early Tuesday to mark the 34th anniversary of the singer's death.
Presley died at the Memphis, Tennessee, mansion on August 16, 1977, and is buried on the grounds. Fans began filing past his grave bearing candles Monday night.
The "King of Rock n' Roll" was 42 when he was found dead in his bathroom .While his death was ruled the result of an irregular heartbeat, the autopsy report was sealed amid accusations that abuse of prescription drugs caused the problem.
More than three decades later, he remains one of the top-selling acts in music.
"Thank you so much for being here and continuing to honor the legacy of my father," said a message from Lisa Marie Presley that was read to fans at the gates of Graceland" reports CNN.
"Your ongoing love and support mean very much to me and my family."
This year, fans have something else to commemorate. It was 55 years ago - 1956 - that Elvis' first two albums were released, launching an international music career that brought his mix of country, rhythm and blues, and gospel to millions of fans around the world.
Ernst Jorgensen, a music producer said: "nobody was prepared for Elvis" quoted Photoblog.
To mark Elvis' breakout year, Jorgensen and his team have assembled a five-CD boxed set called "Young Man With the Big Beat."
In addition to the five CDs, the set includes an 80-page book that provides a daily chronology of Elvis' year though photos, postcards, fan letters, magazine covers, and other memorabilia. The set also includes rare photos, posters, and a replica concert ticket stub.
For more information on this extraordinary collection which is to go on sale September 27 see here: "Young Man with the Big Beat"