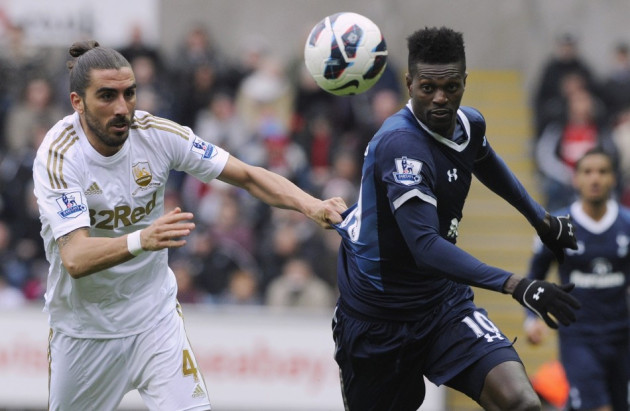 Tottenham Hotspur manager Andre Villas-Boas says Emmanuel Adebayor could make his first appearance of the season against former club Manchester City this weekend.
The Togolese forward hasn't played a single minute for Spurs this season having been forced to train with the under-21 side earlier this term.
Roberto Soldado and Jermain Defoe have been first choice, however, with Tottenham having scored just nine goals in 11 league games this term Villas-Boas is looking for a change in the club's fortunes.
"Our likely approach is to go with one up front (at City)," Villas-Boas said."They (Soldado, Adebayor and Jermain Defoe) are very near each other at the moment and it could be a possibility that even Ade could play that game.
"These are all decisions that we have to take. We don't have enough reasons at the moment not to trust Soldado and Defoe because they've been excellent.
"Hopefully it's a decision that's best for the team and best for the strategy."
Adebayor has been linked with a move to Besiktas in the January transfer window but it is yet unknown whether the African forward will be allowed to leave the club given the problems in front of goal.
Prior to the international break, Tottenham broke the record for the most amount of shots on target in a Premier League game - since records began - against Newcastle United, but fell to a 1-0 defeat at White Hart Lane.
"We haven't been able to find the back of the net as often as we should," Villas-Boas added.
"But we are creating lots of chances. We just have to believe it will arrive that we are able to slot in all these chances."
Having confirmed that only one of Soldado, Defoe and Adebayor will start against City, Villas-Boas has ruled out a change in formation for Tottenham but he is open to returning to the 4-4-2 system.
"We played 4-4-2 against a local team here during the international break," the Spurs boss said.
"We probably can revert to it in the future but I am unsure if is the right time to change our formation, bearing in mind the fixtures we have coming up against Man City and Manchester Utd.
"We have been consistent in terms of chances created within the 4-2-3-1, so that is probably how we are going to do."