Terminally ill former Emmerdale actress Leah Bracknell has opened up about her diagnosis on television for the first time on Wednesday (12 October).
The 52-year-old made headlines last week after she and partner Jez Hughes raised £50,000 to fund special treatment in Germany that could help save her life.
Bracknell – who starred on the ITV soap for 16 years from 1989 until 2005 – became emotional as she discussed her diagnosis on This Morning with hosts Holly Willoughby and Phillip Schofield.
The actress looked radiant and well despite her terminal illness, and appeared positive and grateful to all who have helped to fund the pioneering new treatment overseas within five days.
She said: "Thank you everybody, it's really touched us," before adding: "We actually didn't know it was going to go public at all... we thought, naively perhaps, that friends and family [would donate], so it's been such a strange few days with all the news coming out."
Though Bracknell admitted to smoking "decades" ago, she explained how much of a shock the diagnosis was considering how healthily she lived her life. She said that her initial symptoms sparked concern, continuing: "The lung cancer was quite a shock. I haven't smoked for decades and decades and decades, and it came honestly came out of the blue.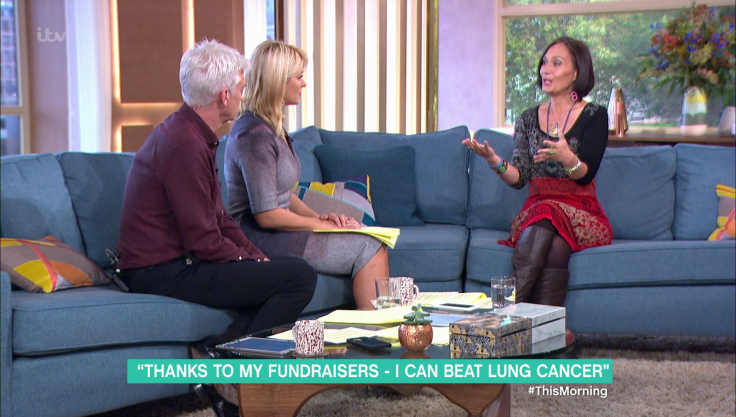 "I've been teaching yoga for a few years full time, I'm pretty much vegetarian, I don't drink that much... and I was reasonably fit for my age. But I literally started to feel a little bit breathless that I thought was a bit of stress or whatever... and it got worse.
"I could get to where you are sitting [looking at Holly and Phil] before feeling like I had climbed a mountain. And within about three days everything swelled. That all happened over four maybe five days..." she added.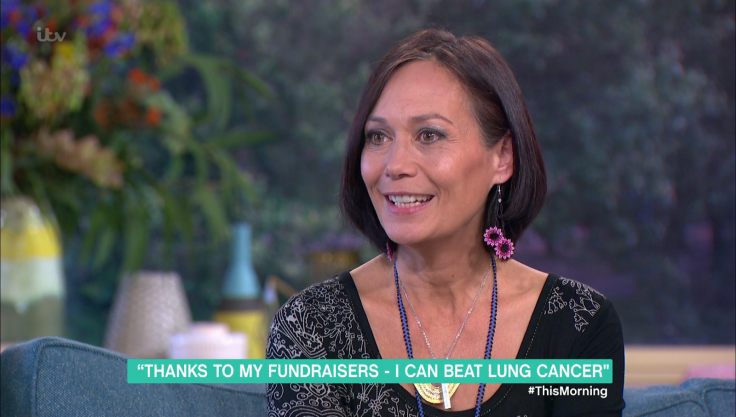 On the chaos of being rushed to hospital, Bracknell said: "I was in hospital more for something to do with the heart, as that was a side effect, and then while I was in hospital they did find out what the diagnosis was following 10 days of tests."
She confessed to initially feeling anger upon hearing the shocking news. The actress said: "My response was anger. Rather than feeling [sad - putting her hands to her face] which came later, but I think in a way that was quite good because it gave me a 'right, I'm going to get on with this now' because this is still my life, so it's still about taking control, as much as you can, of the situation."
She added: "My partner and I were at the hospital and I said 'we could sit here just crying and worrying' and I said 'let's just go out, it's a really nice day, and we went to a bird sanctuary and wildlife thing and just had a really nice time."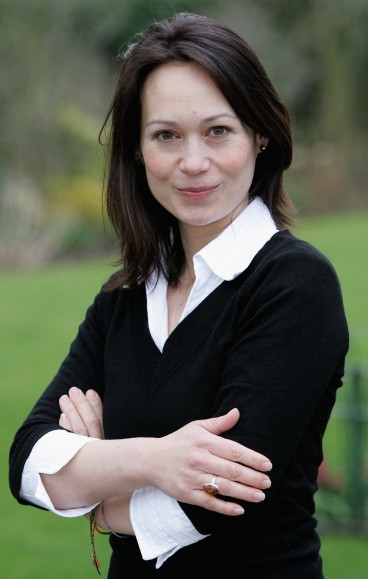 Bracknell clarified her reasoning for being drawn to German treatment. She said: "I've just heard a lot about it, but I think other places are doing incredible things, not just here... but you obviously have to fund privately.
"Within the NHS you can do certain trials if you meet the certain criteria. So I would suggest that anyone in a similar situation, you have to ask and be proactive. The NHS is fabulous. Whether it's doing your own research. Always ask questions."
Inspirationally, Bracknell claims she refused to ask how long she is predicted to live with the terminal illness. She said: "One doesn't ask 'how long have I got?' – you don't want to be boxed into someone else's perception or boxed in that there are no other options... where there's a will, there's a way."
On her future, Leah smiled before saying: "I'm terribly optimistic. I don't see any other way to be. Of course I have moments where the reality hits. It's more about what you're leaving behind that is more difficult. We are all going to go somewhere glorious afterwards, let's hope. But no, I remain optimistic."
She added: "I draw a lot of my yoga practise and spiritual practice, and you know, 'glass half full'... if you can keep your mind positive, and your mind focused on hope, faith, options, and try to visualise a different sort of outcome, that is so powerful in terms of people's healing."