It's been four glorious weeks since Channel 4's epic drama, National Treasure, opened our eyes and refreshed our memories of the Operation Yewtree saga sparked by the late Jimmy Savile's sex crimes.
We've seen glimmers of Freddie Starr and Max Clifford's cases in the haunting series as protagonist Paul Finchley – played by the legendary Robbie Coltrane – faced allegations of historic rape. The case changed his life, affecting his marriage to long-suffering wife Marie (Julie Walters) who had already endured his infidelities.
But even she did not believe his lies any more. She told him: "I think you did it. I do... be brave Paul, try and remember the man you are. Look through the layers."
Last night's (11 October) finale of the dramatic four-parter witnessed emotional scenes as Paul and his family headed to court to face the accusers and await the verdict.
To viewers' dismay, the ageing comedian was found not guilty – despite flashbacks revealing the shocking truth that the "national treasure" was guilty of at least one of the crimes.
But the television star managed to dodge a life behind bars thanks to his long-term comedy partner Karl Jenkins (Tim McInnerney) – who focused on legacy. Writer Jack Thorne's rendition of the post-Savile witch-hunt may indirectly nod towards individuals who got off lightly during the media storm that plagued the entertainment industry from 2012.
Many viewers were infuriated by the court decision, with some taking to Twitter to express their disdain on the not guilty verdict.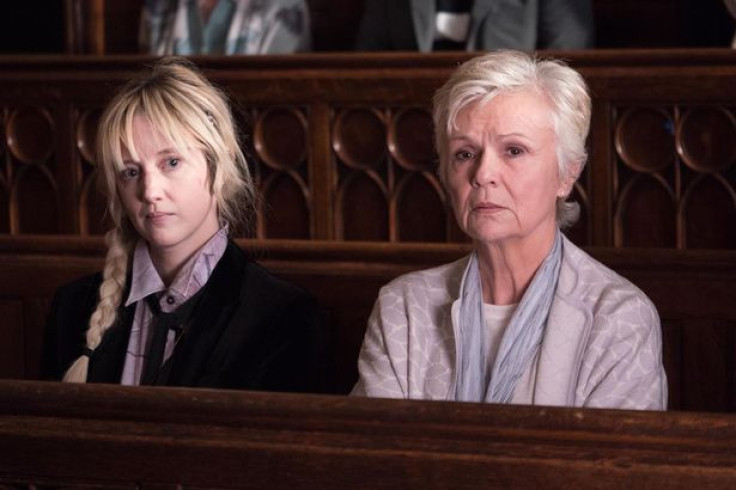 Actress Louise Connolly-Burnham posted: "Just finished #NationalTreasure. I feel like I need to sit still & quiet for a while. Terrifying to think this stuff happens All. The. Time." while another put: "#NationalTreasure - pure genius.Best drama I've seen in a long time.Hats off to you all @jackthorne @marcmunden the cast & crew!"
And a fair few National Treasure fans were sure of Finchley's guilt, with a third adding: "Don't get people's #NationalTreasure disappointment. He did it. Mate covered for him. Wife finally had enough & left #notrocketscience". Another simply put: "Guilty as sin."
Lot's of Twitter users called for the show to sweep the Bafta awards, with Gogglebox's Scarlett Moffatt tweeting: "#NationalTreasure, just take ALL the awards, have them all! BAFTA, NTA they're yours. All of them. Amazing acting throughout!" as celebrity body language specialist Judi James wrote: "NationalTreasure Just send all the BAFTAS round to Julie Walter and Robbie Coltrane now!"
When Finchley was found not guilty "on all counts", the judge told him he was free to leave the court. The episode ended with the comedian shouting for his wife.
What's your verdict?