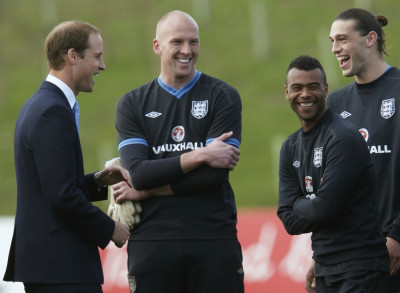 William and Kate have officially opened the Football Association's "Centre of Excellence", St George's Park, set in 330 acres in Staffordshire.
The royal couple were joined by members of the England squad including captain Steven Gerrard, Frank Lampard and Ashley Cole, along with manager Roy Hodgson. Cole has been at the centre of media attention recently over tweets he wrote about the FA.
Cole was facing suspension from the England team after making comments about the FA in regards to his teammate John Terry, who was fined by the organisation for making racist remarks during a match.
According to the Daily Telegraph, William mentioned the incident to Cole. William said: "If you continue to be a naughty boy they'll take your Twitter account off you."
The park cost £105m and will house FA Learning, the educational arm of the FA. It features a full-size replica of the Wembley pitch, 12 outdoor pitches and a Hilton hotel.
The government contributed £6m.
Culture secretary Maria Miller said: "The opening of St George's Park is a landmark moment for football in this country, which will help strengthen our national game at all levels.
"It is through projects and investments such as St George's Park that the next generation of coaches can be identified and nurtured, helping to develop the England stars of the future."
During his speech to open the centre, William spoke about its wider ramifications.
"It is more than just the university from which thousands of highly qualified coaches will graduate. It is also a magnificent example of the sort of social initiative that brings opportunity and purpose to wider British life," he said.
"It will provide employment and a social hub for local people and, through the thousands of volunteers on which coaching relies, it will foster community spirit, purpose and hope throughout England."
David Sheepshanks, chairman of St George's Park, added: "Rarely has a building given the English national game so much hope for the future, for a future of unity across the game, building for a better England, more English coaches and more and better English players at every level."
Heartbroken Prince William Leaves Kate Middleton to go Solo in Northeast