Live England 1-0 Ukraine Euro 2012 As It Happened
England 1-0 Ukraine
21:45: England reach the last-eight of the European Championship with some ease in the end as they edge co-hosts Ukraine out of the tournament.
As ever, they road their luck, especially in the second half as Marko Devic was scandalously denied a leveler by the officials when TV replays suggested his goal bound effort had crossed the line before John Terry's clearance.
England will tell you after Frank Lampard's effort was wrongly chalked off against Germany in Bloemfontein two years ago, they deserve some luck; little consolation for Ukraine however.
Roy Hodgson's side finish top of group D and will face Italy in the quarter final. France, who were defeated 2-0 by Sweden in Kiev, face Spain and will be ruing their opportunity to top the group and avoid the reigning World and European champions.
I hope you have enjoyed IBTimes UK's live coverage of England's third group game. We'll be back to cover their quarter-final against Italy on Sunday. Until then, goodbye.
Full-time: England 1-0 Ukraine
91 mins: Yarmolenko, who have been quiet in the second half, curls harmlessly over the bar. France now 2-0 down against Sweden.
90 mins: Ukraine running out of ideas in their attempts to rescue their Euro 2012 campaign. They have to score, at least twice to reach the last eight. France still losing 1-0 to Sweden. Three minutes added on.
86 mins: Shevchenko almost pounces from a Ukraine corner at the near post, but England scramble it away. Hodgson's side are finding it very difficult to keep the ball for any length of time. Alex Oxlade-Chamberlain replaces Wayne Rooney.
82 mins: Nazarenko gets involved for the first time and smashes it goal wards, but the ball is always rising over Hart's goal. Another England change, Danny Welbeck comes off for Andy Carroll.
78 mins: Two changes for Ukraine, who are really going for it now. Bohdan Butko and Serhiy Nazarenko on for Denys Garmash and Artem Milevskiy.
75 mins: Joe Hart makes a very good save to keep England ahead. Evhen Konoplyanka has a go from range, and the ball swerves before being palmed away by the Manchester City stopper. At the other end, Rooney's header from Gerrard's corner is saved by Pyatov.
Here's a closer look at the incident. The ball appears clearly over the line despite Terry's desperate clearance. Just 17 minutes left in Donetsk.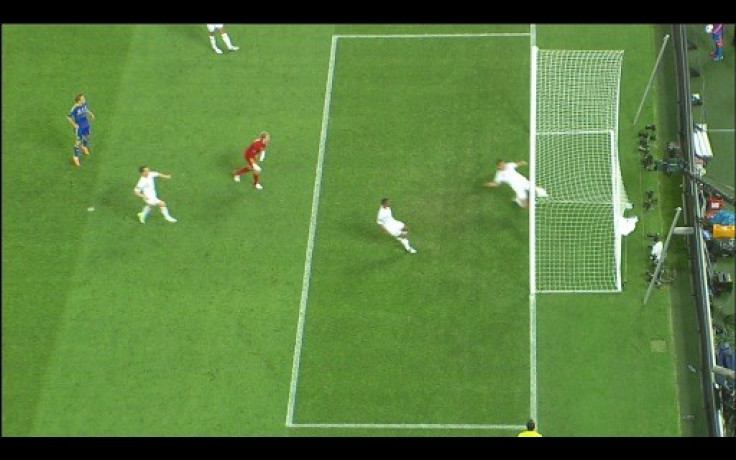 70 mins: Substitutions for both sides; James Milner is replaced by Theo Walcott and Andriy Shevchenko comes on for Marco Devic.
68 mins: A real glaring mistake from the officials there, but England must take advantage of their good fortune like so many sides have against them. Ashley Cole attempts to double England's lead but Pyatov claws the ball away.
63 mins: Despite going ahead, England are on the rack here and Ukraine should be level. Devic gets away from John Terry and his shot is palmed by Joe Hart, but John Terry makes a clearance off the line. Replays show the effort did cross the line, but the referee, and officials on the sideline and behind the goal fail to notice. The goal-line technology debate rumbles on.
62 mins: England's concentration is almost exposed from set pieces yet again. A quick corner is not picked up and Milevsky heads over from point blank range. Big let off.
53 mins: England clear a third Ukraine corner in quick succession, and in a flash Steven Gerrard, who toe poked the initial set-piece clear, puts Rooney clean through but he can't accelerate away from Ukraine's backtracking defence and the chance is gone. England are now favourites to finish top of group D as it's France 0-1 Sweden in Kiev.
51 mins: England would finish top of group D as things stand, but must resist the temptation to sit back now they've hit the front. Ukraine aim to repeat what France and Sweden both did in the opening group games immediately but Danny Welbeck clears a succession of right wing corners.
48 mins: England start the second half on the front-foot and after a corner is easily cleared, Gerrard evades Yarmolenko on the left-hand side, and his cross deflects off Selin and Khacheridi, goes through Pyatov only for Wayne Rooney to head into an empty net.
GOAL: England 1-0 Ukraine (Wayne Rooney)
20:47: Easy to forget that amid the disappointment over England's first-half performance, and the impressiveness of Ukraine's, that as things stand both sides are heading in opposite directions in this tournament. A draw is enough for England, while only a win will assure Ukraine a place in the last-eight. Second half about to get going. No changes at the break.
20:44: England have been alarmingly lackluster in the opening 45 minutes, and of particular concern, bar the possession and chances of Ukraine, with be the influence of England's main men, Rooney and captain Steven Gerrard. The returning United forward has looked sloppy on the ball, while Gerrard again appears hamstrung by his deep lying midfield role. England require some dynamism in their performance, and both need to become more involved to stem the flow.
20:36: With England having not got going, Ukraine have dominated for much of the first half in Donetsk. The positives for Roy Hodgson will be that despite their dominance, the co-hosts have yet to manufacture a genuine opening in the opening 45 minutes. In the absence of Andriy Shevchenko, winger Andriy Yarmolenko has been a real menace in and around the England box.
Wayne Rooney, who has enjoyed an indifferent evening upon his England return, has wasted the best chance for, heading wide Ashley Young's left-wing cross, but in an attacking sense, there is little else to report.
In the other game in Kiev, France are level with already eliminated Sweden. Both France and England will go through as things stand.
Half-time: England 0-0 Ukraine
42 mins: Yarmolenko has been Ukraine's biggest threat in the first half by a distance, and he almost tricks his way through England's stationary defence, but Lescott comes to their rescue after both Parker and Cole were left in his wake.
41 mins: Young puts Rooney away on the left, but after his deep is cross is headed out, Scott Parker attempts a dipping volley which bounces harmlessly wide.
36 mins: The game is somewhat stretched at the moment and Ashley Young stretches his legs down the left, gets to the byline and forces Yaroslav Rakitskiy into an unorthodox clearance, with James Milner closing in.
34 mins: Ukraine still running in-between England's defence, and Devic gets free again in the penalty area, but Joleon Lescott gets the ball clear.
32 mins: After Ashley Young's shot is deflected behind for a corner, Gerrard is handed another opportunity to test a fragile Ukrainian back-four. The Liverpool captain plays it deep for an untracked Terry, who miss-times his header and the ball sails over the bar.
30 mins: Ukraine hit back immediately, and come up with their best effort of the half. Devic turns away into space and find Yarmolenko, who is given enough time to get onto his favored right-foot before shaping the ball into the opposite corner only to be denied by Hart.
28 mins: England beginning to assert some authority, and they should be ahead. John Terry's cross field ball brilliantly finds Ashley Young, who comes onto his right foot and delivers a peach of a back-post cross only for Rooney to head, unmarked, wide of Pyatov's goal. For all Ukraine's dominance, it's by far the best chance of the evening for the returning Manchester United forward.
24 mins: Johnson wins England a free-kick, and some rest bite mid-way inside the Ukraine half. Gerrard's free-kick is towards the near post, and Rooney is inches from getting a touch before Pyatov flaps at the ball only for it to harmlessly go out for a corner. Terry gets a touch on the resulting corner, but Ukraine clear the danger.
22 mins: Yet another opportunity for Ukraine as Ashley Young is caught napping, with Gusiev, who has been the co-hosts' greatest threat, roaming from right-back to thunder a shot over Hart's crossbar.
18 mins: Another minute goes by, and another half-chance for Ukraine; and their openings are improving. Konoplianka's tricky run off the left touchline sees him escape Glen Johnson, but his goal bound shot hits the shoulder of Terry and England clear. Hodgson's men riding the storm at the moment.
17 mins: Ukraine aren't afraid of hitting cross field passes and switching the attack when they get the ball in their own half, and Garmash tries to get Yarmolenko away but the ball runs out of play.
13 mins: Oleg Blohkin will be encouraged by this start from his side, and they force another half-chance in the opening minutes. The balls falls to Devic, but Scott Parker gets the block in. England win a corner at the other end, after Glen Johnson's cross, but Gerrard's set-piece is cleared.
12 mins: England's first spell of possession gives Ashley Cole the chance to cross from the left, but it's straight into the arms of Andriy Pyatov.
8 mins: First genuine opening, and it goes to the co-hosts. England's defence is in pieces and Konoplianka gets in behind before Terry makes a recovery tackle.
7 mins: Rooney's first action on the ball is to the take the ball from Ashley Cole before Oleh Gusiev makes the sliding tackle on the left touch line. Denys Garmash has the first meaningful attempt on goal, but Joe Hart sees the ball over the top.
3 mins: England very sloppy on the ball early on; Wayne Rooney and John Terry guilty of giving the ball away in the early stages. Ukraine dominating possession, but much of it is in their own half.
1 mins: Underway at the Donbass Arena. Quick observation, England were meant to have around 3,500 fans in attendance for their final group game here. The noise at kick-off suggests at least double have made the trip. Easily outnumbered by the home support however.
19:44:Just a reminder, England need a win or a draw to qualify along with France from group D. To top the group, and avoid World and European champions Spain, they must better France's result against Sweden. Just about to get underway in Donetsk.
19:40: The man in the middle in Donetsk is Viktor Kassai, who refereed the Champions League final at Wembley between Barcelona and Manchester United in 2011. A good omen for England fans; Wayne Rooney scored that particular day.
Both teams out on the pitch now. Anthems on the way.
19:36: It is as you were system wise for England. A fluid 4-2-3-1 formation, with James Milner, Wayne Rooney and Ashley Young playing in behind Danny Welbeck, who scored the winner against Sweden.
Ukraine are slightly on the ridged side, with Bayern Munich's Anatoliy Tymoshchuk playing in the holding role behind Evhen Konoplyanka and Andriy Yarmolenko. The pair will roam the flanks hoping to expose the deficiencies in England's back four, which Sweden breached from set-pieces on two occasions in Kiev.
Up front, manager Oleg Blohkin has opted to leave out his experienced pair Shevchenko, who is likely to only be called upon in the worst case scenario for the co-hosts given his injury problems, and Voronin, leaving the responsibility at Milevskiv and Devic's feet to lead the line.
19:25: A word of caution for those confident the return of England's talisman will spark not only a convincing win over Ukraine tonight, but also a deep run in the tournament.
Rooney, having missed England's opening two games, has played just 37 minutes of football since his last appearance for Manchester United on 13 May.
Furthermore, such has been the 26-year-old's tendency to flatter to deceive on the grandest stage for his country that Rooney hasn't scored in a major tournament for eight years; his first in the 2004 European Championship when he netted four goals.
19:13: As expected, England recall Wayne Rooney in place of Andy Carroll in the only change from the win over Sweden. Theo Walcott, who made a match-winning impact last Friday, is again on the bench as James Milner takes his place on the right.
The big news for Ukraine is captain, talisman and scorer of their only two goals of the tournament, Andriy Shevchenko, misses out from the start for the co-hosts with a knee problem. Former Liverpool striker Andriy Voronin also starts on the bench in the only two alterations from the defeat to France as Marco Devic and Artem Milevskiystart up front.
19:05: Teams:
England: Hart, Johnson, Terry, Lescott, Cole, Milner, Gerrard, Parker, Young, Rooney, Welbeck.
Ukraine: Pyatov, Gusev, Khacheridi, Selin, Rakitskiy, Yarmolenko, Tymoschuk, Konoplianka, Garmash, Devic, Milevskiy.
Referee: Viktor Kassai (Hungary)
19:00 Welcome to IBTimes UK's live coverage of England's final Euro 2012 group match against the Ukraine in Donetsk. After putting their supporters through the mill against Sweden, Roy Hodgson's England know a point against co-hosts Ukraine will be enough to reach the last-eight.
Meanwhile, Ukraine, who were soundly beaten by France last week, have their European Championship existence hanging by a thread. Oleg Blokhin's side must win to stand any chance of going through.
In the other group game in Kiev, France only have to match any England win to progress as group winners against Sweden, while only a heavy defeat and a Ukraine win in Donetsk will see Laurent Blanc's side go out altogether.
I will be keeping you updated on the qualifying situation as the action unfolds in group D throughout the evening to save you the difficulty of doing the maths. A cross between Carol Vorderman and Geoff Stelling if you will.
© Copyright IBTimes 2023. All rights reserved.