Cameroon's English-speaking cities of Bamenda and Buea are "on lock-down" due to a strike started on 9 January. Schools which were due to reopen remained closed, and businesses were shuttered after leaders of the Cameroon Anglophone Civil Society Consortium, (Cacsc) called for "Operation Ghost Town".
The strike is in protest against perceived marginalisation and the use of French in courts and schools in Cameroon's Southwest and Northwest provinces, the country's only Anglophone areas. Lawyers, teachers and students have been striking and protesting since October 2016.
Some groups have also taken to the streets demanding a return to a federal state system and the breakaway of the Northwest and Southwest provinces and the restoration of "Southern Cameroons", or the Republic of Ambazonia, a British mandate during colonisation.
Protests have resulted in the death of at least four protesters in Bamenda, according to police sources. Dozens have been arrested, with right groups calling on authorities to investigate on the deaths.
The Cameroonian government, which denied allegations of excessive force by military and police to quell protests, is engaging with the organisers of the strike. However, it has rejected calls for a referendum on a possible return to a federal system.
Some analysts have claimed authorities are failing to address people's long-standing grievances that go beyond the use of French in courts and schools.
Southern Cameroons and independence calls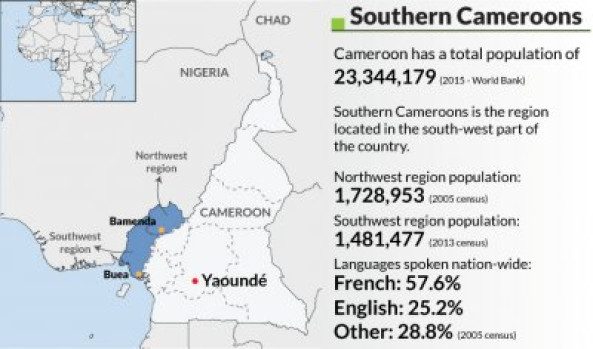 Southern Cameroonsibtimes.co.ukSouthern Cameroons was the southern part of the British Mandate territory of Cameroons during the colonisation.
In 1961, people of Southern Cameroons voted whether to join Nigeria or the Republic of Cameroon, which had already obtained independence from Britain and France one year earlier.
The vote resulted in Southern Cameroons becoming part of the French speaking Republic of Cameroon.
In 1972, a new constitution was adopted in Cameroon, replacing the federal state with a unitary state.
The "Cameroon Anglophone Movement" was created in 1984. People originally sought a return to a federal system, but eventually started calling for independence.
More on possible alliance between Southern Cameroons and pro-Biafrans.