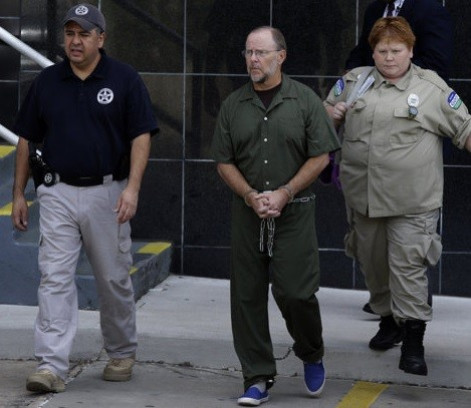 Former Enron boss Jeffrey Skilling has had his 24-year prison sentence commuted on appeal to 14 years, in return for agreeing to abandon all further legal efforts to have his sentence reduced.
Skilling presided over the US energy company during the period when it committed one of the biggest corporate frauds in US history, leading to the loss of thousands of jobs when it collapsed in 2001.
The company went bankrupt after ti emerged that executives had covered up holes in its finances through corrupt accounting and illegal deals.
A jury in Houston, Texas, convicted Skilling in May 2006 on 19 counts of securities fraud, conspiracy, insider trading and lying to auditors. His sentence will now run until December 2020.
Skilling's predecessor as head of Enron, Kenneth Lay, was also convicted of fraud and conspiracy. Lay died in July 2006 of a heart attack.
The agreement Skilling reached with prosecutors allows for more than $40m (£26m) that was seized from him to be distributed to the victims of his crime.
Skilling was able to push for a reduced sentence after an appeals court ruled in 2009 that sentencing guidelines had not been correctly followed in the original trial.
Skilling was employed by Enron for 20 years and was chief executive for six months, leaving the company four months before it went bankrupt in 2001.
Enron's former chief financial officer, Andrew Fastow, testified against both Skilling and Lay and was sentenced to six years in prison. He was released in December 2011, but declined to comment on the developments.