A Venezuelan first division football team was reportedly held at gunpoint by a gang of armed men, before being robbed of "absolutely everything" including cameras, laptops, clothes, footballs and shoes.
Trujillanos, based in Valera, were making their way home on the team bus after losing Sunday's away game against Monagas, in Maturin, before being stopped around 300km into a 1000km journey by a group of gunmen said to be carrying 'high calibre' weapons.
According to reports, the bus was stopped and boarded by six men in the north-eastern state of Anzoategui on Monday 19 September. The group then stripped the players and staff of all of their valuables and personal items. They were held for more than two hours by the gunmen, who were said to be carrying high-calibre weapons.
Whilst being held they were taken on a one-mile detour with the robbers threatening to detonate grenades on the bus if anyone resisted or contacted authorities.
Trujillanos FC say that nobody was hurt after they handed over their possessions, although some of the players were hit by the men.
The team's official press officer told the BBC that the robbers managed to force their way onto the bus then ordered the driver to a detour. The men were then forced to strip, handing over clothes in the process, before the assailants rummaged through suitcases.
The criminals even stole footballs from the team and the DVD player from the bus. Afterwards the club posted a picture on Twitter of the shocked team and officials, some with no shirts and shoes.
Crime in the poverty-stricken south American country is spiralling as the nation wrestles with an economic crisis. Earlier in September the International Tennis Federation moved a Davis Cup match from the country to Peru because of security concerns.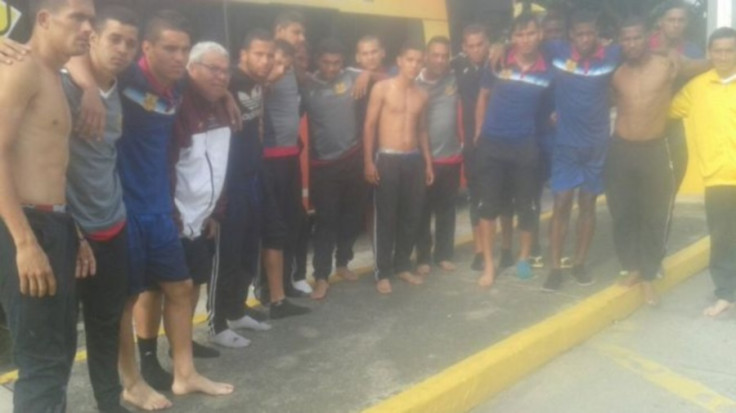 After the incident, Venezuela's Football Federation appealed to the relevant authorities to ensure the safety of their teams who often travel huge distances by coach.
Venezuela is going through a deep economic crisis and political turmoil leading to acute shortage of food and aid supplies. The OPEC (Organization of the Petroleum Exporting Countries) nation led by President Nicolas Maduro has seen daily demonstrations including clashes with police, regular power cuts and public sector workers restricted to a three-day week.
Experts predict Venezuela's economy will shrink by 10 per cent this year, while inflation will rise to 700 per cent.