Turkish President Recep Tayyip Erdogan has announced a three-month state of emergency, following the failed military coup on 15 July, which left hundreds of people dead, while also hailing citizens who took to the streets to stop tanks as heroes and martyrs.
The state of emergency has been declared under Article 120 of the Turkish Constitution. It was necessary, Erdogan said, to enable the state to "take the most efficient steps in order to remove this threat as soon as possible, which is a threat to democracy, to the rule of law, and to the rights and freedoms of citizens in our country".
Erdogan spoke following a National Security Council and cabinet meeting at the Parliament building in Ankara, which was targeted by bombing during the failed uprising on 15 July.
According to The Guardian, the president defended the ensuing clampdown, in which thousands have been arrested or sacked, media outlets shut down and the reintroduction of the death penalty discussed, while saying that citizens should not have "the slightest concern with regards to democracy, rule of law, fundamental rights and freedoms".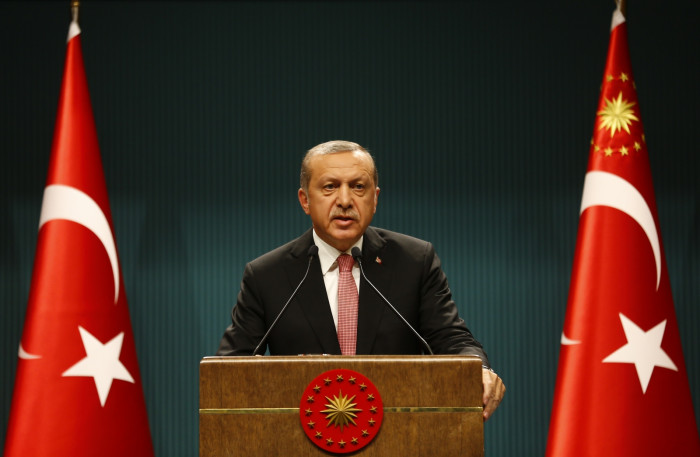 Erdogan has called on the US to extradite Fetullah Gulen, who he believes is at least partly responsible for the coup – a charge Gulen denies. Erdogan says the US asked for evidence of his involvement before they would consider extradition, evidence he now claims to have supplied.
The military coup failed as Erdogan was able to use technology to take to the airwaves and demand citizens defend the state. Thousands did so, taking on tanks and helicopters, with 232 people losing their lives in the process.
President Erdogan paid tribute to those who died in defence of the country. The nation would "never forget the bravery and sacrifice of those who lost their lives", he said, adding that there had been "epics of heroic bravery throughout the night".
In one dramatic example of that bravery, a man was filmed being run over by two separate tanks as he tried to stop them. Both tanks passed over him but he managed to duck between their tracks and survived.
99 military commanders have been charged in connection with the coup, and around 50,000 people have been arrested, sacked or had their licenses to teach removed. Amnesty International has called the state's actions "a crackdown of exceptional proportions."