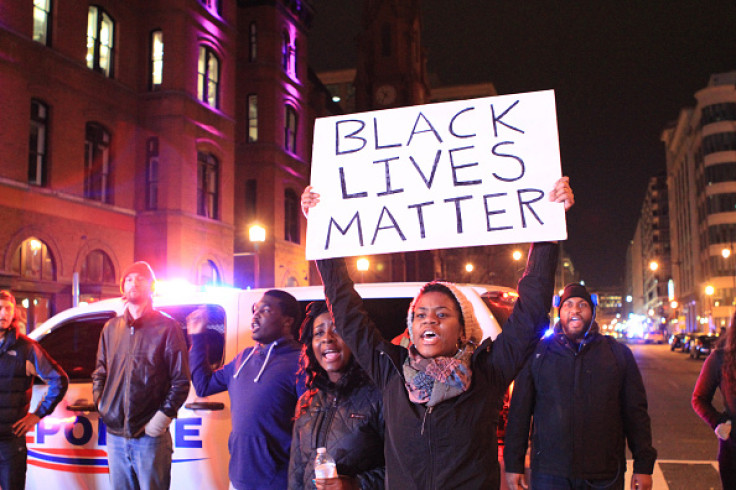 Thousands of people have taken to the streets of New York and other US cities for a second night of protests against the verdict following the death of Eric Garner, an unarmed black man killed by a white policeman.
Protests erupted after a grand jury acquitted New York Police Department (NYPD) Officer Daniel Pantaleo, who killed the man by placing him in an illegal chokehold after accusing him of illegally selling cigarettes.
The homicide was caught on tape by Ramsey Orta, who was indicted by the same court that acquitted Pantaleo.
Demonstrations started immediately after the ruling on Wednesday ( 3 December), with protesters blocking a number of streets and marching into Times Square.
The grand jury's decision also led to the US justice department launching a federal investigation into whether Garner's civil rights were violated.
On Thursday, demonstrators marched in New York carrying fake coffins and banners saying "Racism kills" and "This stops today" across the Brooklyn Bridge, and marched in several groups through Manhattan.
Many protesters chanted Garner's last words: "I can't breathe", while others also staged so-called "die-ins" protests, in which participants lie on the floor and pretend to be dead.
"People are sick and tired of the systemic problems of racism in this country," one protester, Jason Pollock, was quoted by the BBC as saying.
"We are out here in the streets to say that black life matters."
Another protester, Constance Malcolm, whose son was killed by police in Bronx in 2012 after being chased into his home, told the Guardian: "People are paying attention but it shouldn't take this for people to pay attention.
"Police need to be held accountable for their action – not put them on desk duty or give them vacation. They need to get fired and go to prison for the crime they commit."
Following the non-indictment, US President Barack Obama said that the case is part of a bigger problem and further highlights the feeling within "many minority communities that law enforcement is not working with them and dealing with them in a fair way".
"We are not going to let up until we see a strengthening of the trust and a strengthening of the accountability between our communities and law enforcement. We are all equal under the law," he said during a speech at the 2014 White House Tribal Nations Conference.
The protests came a few days after rallies rocked the city of Ferguson, Missouri, as a white policeman was acquitted after he shot dead 18-year-old African-American Micheal Brown.