The eldest daughter of Eric Garner, Erica, is in a coma after suffering a heart attack on Saturday, 23 December, night. The 27-year-old has been on life support since then at a Brooklyn hospital.
The family members of the woman – who has become an advocate against police brutality since her father's death in 2014 – told the Daily News that she was unable to breathe on her own, and are praying for her well-being.
"(She) is still with us. She's fighting. The doctor says she has a strong heart," Erica's mother, Esaw Snipes-Garner, said.
Esaw added that Erica's latest cardiac arrest was brought on by an asthma attack. She had earlier suffered one a few months after delivering her second child in August. According to her, the pregnancy had put a strain on her daughter's heart, which was later found to be enlarged, a condition about which the mother-of-two had not been aware of.
Erica's sister, Emerald Snipes, also posted about her critical condition on Facebook. She wrote on her social media page, "I just left the hospital and it's not looking good. ... I pray she makes it; she has two little ones to live for."
In a later post, Snipes wrote, "Don't even feel like Christmas but I gotta fake smile for my baby.
"Erica better get better soon. She gets on my last nerve but I'd rather fight with my sister than to lose her," she added.
Erica is the eldest child of Eric Garner, who died on 17 July, 2014 when police officer Daniel Pantaleo placed him in a chokehold as he arrested him for allegedly selling untaxed cigarettes. His death, which followed the shooting of Missouri teen Michael Brown, sparked protests against police brutality.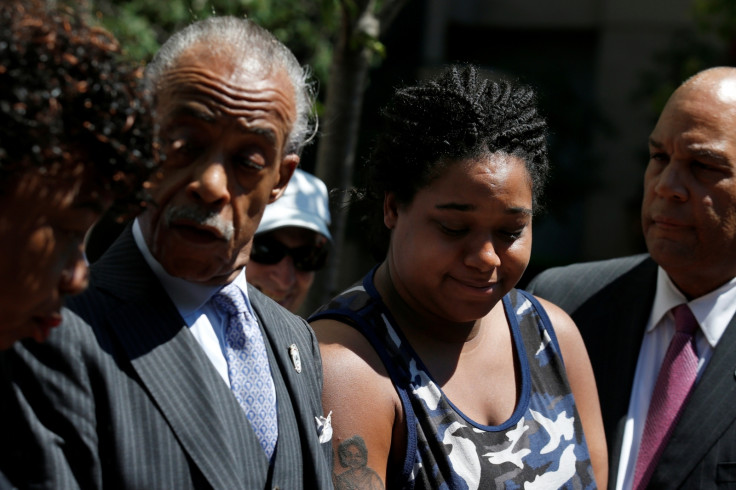 Garner's last words, "I can't breathe," which he repeated 11 times before dying, became a rallying call during protests. Despite the death being ruled a homicide by the medical examiner, a Staten Island grand jury decided not to indict Pantaleo.
Since then, Erica has actively participated against police brutality and had also condemned former president Barack Obama for the Justice Department's slow investigation of her father's death. The federal probe is still open.