What was supposed to be a celebration for Freedom Day in Belarus turned into the mass arrest of hundreds of protesters questioning the two decade-long rule of President Alexander Lukashenko, often dubbed "Europe's last dictator" for its autocratic regime.
The rallies scheduled for 25 March were culminating weeks of rare protests in the countries, which started in February to oppose a so-called "social parasites" tax targeting unemployed people, ostensibly to discourage participation in the informal sector of the economy.
Authorities had banned the protests in the capital and several hundreds of protesters, unofficial estimates ranging from 400 to more than 750, including young and elderly people and around 50 journalists, were detained in Minsk, forcefully dragged into police vans by officers in riot gear.
The forceful repression of peaceful demonstrations marked the end of the government's period of appeasement towards public expression of dissent. "From now on, protesters in Belarus are likely to face elevated risks of death and injury and of detention," wrote Alex Kokcharov, senior analyst at IHS Markit, in his country risk report published on 27 March.
Speaking to IBTimes UK, Kokcharov explained why the government's repression will probably succeed in quelling dissent in the short term: "The majority of people who work in government sector [counting for 80% of the economy] work on 1-year contracts, so they may not be renewed by the employer if you are seen as a political troublemaker. We have seen reports that the students who were detained in the protests are now undergoing administrative hearings at university in which they will be either suspended or expelled, and we will see people losing their jobs because of the protests."
The brutal repression of peaceful demonstrators was condemned by human rights activists across Europe. A solidarity banner with the protesters was spotted in Prague, reading "Stop political repression in Belarus".
The NGO Index on Censorship condemned the crackdown in a statement: "This is in clear violation of the right to freedom of expression and freedom of assembly. Index demands all detainees be immediately and unconditionally released and all charges be dropped".
The British-based Belarus Free Theatre (BFT) denounced the detention of one his staffer, Siarhai Kvachonok, who was sentenced to 10 days imprisonment on 27 March for participating in the protest. Another BFT member, Yana Rusakevich, was in hospital with a concussion. MP Maria Miller, a trustee of the theatre, raised the issue in parliament on Monday, and promised to raise the issue with Foreign Secretary Boris Johnson on 28 March.
"The UK Foreign Office need to be clear Belarus government shouldn't use mass arrest to silence those who disagree with President-in office for 27 years," she said, referring to Lukashenko's 1990 election to deputy to the supreme council of the Republic of Belarus which anticipated its first term as president of Belarus four years later.
In anticipation of the protests, the Foreign Office updated its travel advice on 23 March, and it remains current, intimating visitors to avoid large crowds and demonstrations and "maintain a high level of security awareness."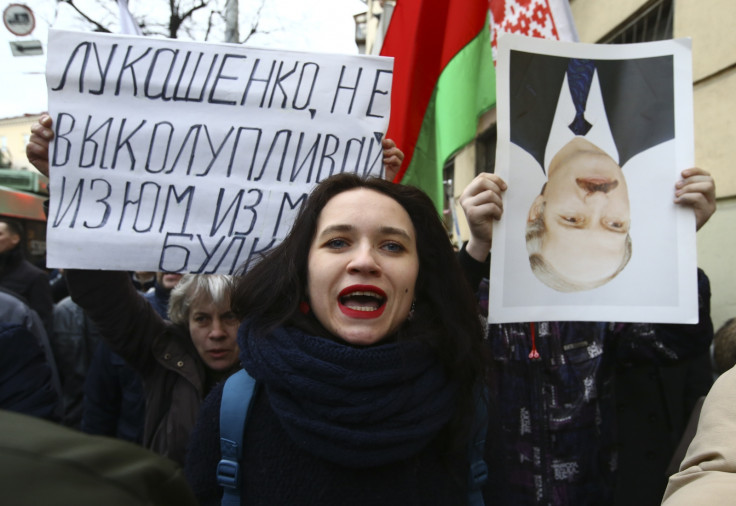 The last time Belarus faced large-scale protests was 2010, after an election marred by violence against political opponents that reconfirmed Lukashenko at the helm of the country with almost 80% of the votes. The brutal repression of the protests led the European Union to impose sanctions on Lukashenko and his officials which were eased in February 2016.
The new wave of protests were fuelled by growing dissatisfaction with a struggling economy and living conditions that have at best stagnated if not worsened for the past 23 years of Lukashenko's rule. Kokcharov noted how it was not only traditional regime opponents who took to the streets in the past month, but also people previously loyal to Lukashenko who became dissatisfied due to the poor economic conditions.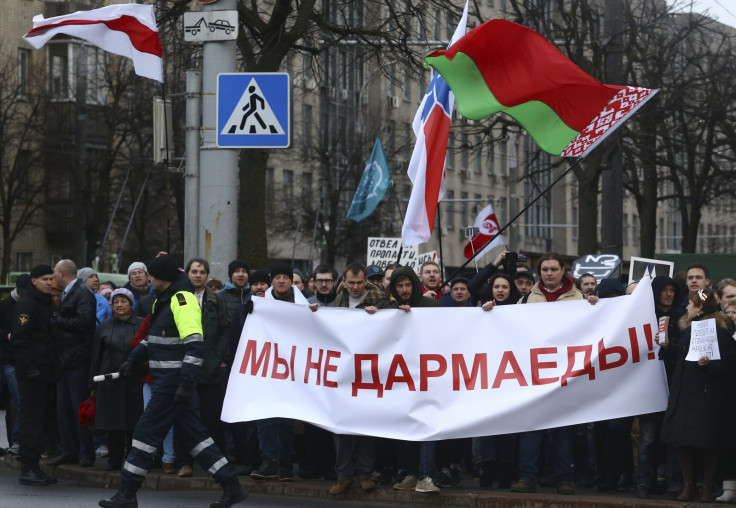 Symbolising the width of dissent among society, both the government-supported red and green flag and the opposition white flag with a red stripe in the middle could be seen at the protests. But the recent crackdown on civil society show that Lukashenko is willing to risk new sanctions to retain power. "Belarus is strictly controlled. There will be no significant civil unrest to undermine government stability in the next year," Kokcharov said.
According to him, the only credibly destabilising factor for the Belarusian regime is Russia and its willingness to directly and indirectly support the country financially in return for Belarus' military and political allegiance. Kokcharov said Lukashenko is likely to finish his term, which expires in 2020. "With elections approaching there can be developments, but in the 1-2 year outlook the only realistic threat to Lukashenko rule in Belarus will be Russia."