Police across Europe have launched a campaign to locate the most-wanted fugitives by sending them summer postcards.
Europol – the European Union agency for law enforcement cooperation – appealed to the public to help them find the exact address of Europe's 21 most-wanted fugitives.
The criminals have " committed serious crimes" across the continent and traditional investigative measures have failed to locate the fugitives' whereabouts.
Europol explained the criminals are believed to be hiding in a different country than the one where they committed crimes.
While ENFAST, the European Network of Fugitive Active Search Teams, is working to locate them, the public can also contribute to identify the fugitives' hideouts.
"While most of us are enjoying a well-deserved summer break, criminals are not taking time off from crime. Holiday destinations have proven to be popular hiding places for criminals on the run from law enforcement. They might even have chosen the same destination as you," Europol said in a press release.
"Dear Marco, don't you miss the taste of real Italian cuisine? Come back to the sun-kissed shores of Italy for a true authentic (food) experience that you will never forget," reads one of the postcards addressed to Marco di Lauro, a member of the Naples-based Camorra mafia syndicate. He is wanted for crimes including murder, drug trafficking and robbery.
"We are inviting you back to Aphrodite's island. The beach is full of oysters, pearls and us wanting for you," read another one addressed to Ivan Milovanovic, wanted in Cyprus for armed robbery and conspiracy to commit felony.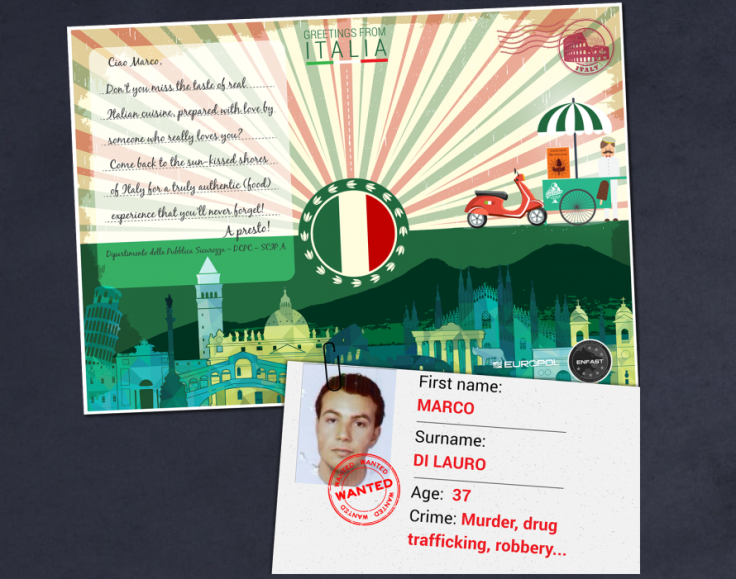 "Dear Artur, Belgian fries are the best and we know you miss them. Come back to enjoy them - we'll have a nice surprise in store for you," says one postcard from the Belgian police," says another one, addressed to Artur Nawrocki, wanted for drug trafficking.
Authorities explained that the crowdsourcing system has proved to be effective in the past.
At least 11 fugitives have been arrested thanks to information provided by the public since ENFAST and Europol launched the Euro Most Wanted website in 2016.
The website features names and potographs of dozens of fugitives.
Another four fugitives turned themselves in after they saw they had been included in the list.