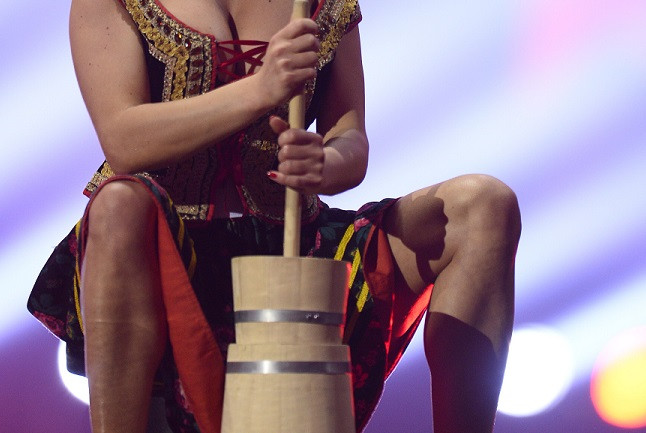 Poland has come in for stick for its "soft porn" Eurovision performance which has been branded "shocking" by one British judge.
Laura Wright, who is a professional soprano singer, said the display by Polish act Donatan & Cleo was "two boobs too far".
The Polish effort at the competition in Copenhagen, Denmark, featured milk maids dressed in plunging corsets suggestively working a milk churn.
The tune itself was called: 'We are Slavs' and featured the out-of-place line: "shake what your mama gave you" – which is usually found in American funk music, not pop from eastern Europe.
It was all too much for Wright, who said: "I'd say it was soft porn. It was two boobs too far for me. I was shocked to see something like that on a family show.
"It's obvious why their performance has gone down well but that makes me really sad from a woman's perspective.
"You could see the obvious male appeal but there was no attention paid to the actual song and it is a song contest.
"It's not supposed to be about buxom ladies washing their intimates on stage."
Yet, Wright was seemingly out of step with the rest of the British population who watched the X-rated performance on television: the British viewing public voted Poland tops out of all participating nations.
Wright is famous in Britain for singing the English national anthem before rugby matches and she was one of five industry insiders sitting on the judging panel at this year's Eurovision song contest.
"I don't agree with that and I think it's a real shame because the standard generally was high, and this stuck out for the wrong reasons," Wright observed.
"Families were sitting at home watching, so I don't think it was right and took away from what the contest is about.
"My parents said it was a bit much for them too, but maybe this is the kind of reaction the Polish act wanted to achieve."
But the raunchy act failed to work on many of Britain's neighbours as Poland failed to win on a night which saw the contest won by the bearded lady from Austria; Conchita Wurst.