HM Guys Marsh prison in Dorset underwent a mass evacuation on Friday (10 March) night after an inmate started a fire during a protest. According to reports, the inmate set fire to his own clothes on the roof of the prison.
The BBC reports that the prisoner responsible was protesting against changes to the prison regime, and was said to have been drunk at the time of the incident. Though the protest began at around 5pm, emergency services were only called to attend the fire at 8pm after the prisoner apparently tore tiles off the prison roof before removing his clothes and setting them alight.
Speaking to the press, Superintendent Caroline Naughton of Dorset Police talked down the incident, despite a damning report in 2015 suggesting staff at the prison had "all but lost control" of it.
She said: "This was an isolated incident. An investigation is now under way to establish the exact cause of the fire. These enquiries remain ongoing.
"We would like to reassure members of the community that there is no immediate risk to those living in the surrounding area and that the incident is under control."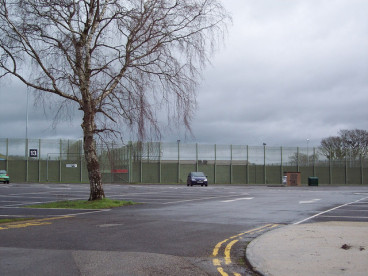 The report, which followed an unannounced inspection of the Category C prison, stated that levels of violence were said to be "very high." HM Chief Inspector of Prisons, Nick Hardwick, wrote: "At a time when we are seeing some overall improvement in the system, HMP Guys Marsh stands out as an establishment of great concern."
The fire is one in a growing list of incidents in UK prisons, after a swathe of riots took place in 2016, including at HMP Birmingham, as well as increasing attacks on prison staff.
Last month Justice Secretary Liz Truss denied the issues had been caused by cutting 6,000 members of prison staff, as she announced additional funding of £12m ($14.6m) to improve a recruitment drive.
No one was thought to have been hurt in the fire, which caused the evacuation of 64 inmates in total, though damage to the roof was thought to have been sustained during the incident.