A new documentary has shown how British prisoners are smuggling tiny mobile phones inside Mars bars, are receiving drugs sprayed onto children's drawings, and are exposed to rampant violence and anarchy.
Channel 4's The Secret Life of Prisons uses footage illegally taken by inmates inside jails across the country to give a stark glimpse of a prison service currently under unprecedented pressure and which experts say is nearing collapse.
It shows the grim reality of record levels of violence where prison officers are losing control of inmates, gangs prey on mentally ill prisoners, and guards are left powerless to keep out new psychoactive drugs now linked to dozens of deaths.
The footage piles further pressure on the government as ministers are accused of pushing prisons to collapse through a toxic mix of staff cuts and record prison population levels.
The documentary sees prisoners boast of how prison security – essential to keeping discipline and order – has become easy to evade with sophisticated new methods like drones and spray-on drugs.
One woman featured boasts of how she has been able to build a thriving business smuggling contraband into prisons, taking orders from inmates via text message.
Named only in the programme as "Paula", she shows how she uses a simple Mars bar to illegally smuggle a £25 miniature mobile phone into prison where it will end up fetching up to £800.
"I'll take that in on my person in places where you wouldn't get searched, the front of your trousers, in your bra," she says. "I'd say that there's probably 75% of prisoners have phones in jail."
The thousands of phones smuggled into prisons each year have allowed inmates to continue a life of crime behind bars, with prison authorities saying they've been used to commission murders, organise escapes, and even smuggle machine guns into the country.
Paula, who says she's never been caught, also shows another lucrative side to supplying the prison black market – drugs.
She is seen preparing "spray-on spice" – a new liquid form of a lethal psychoactive drug that is said to be nearly impossible to detect by prison guards.
The substance, a type of synthetic cannabis, is sprayed on to a sheet of paper and posted to inmates to smoke. "If it's X-rayed nothing comes up," she tells the programme, saying just one A4 sheet is worth £50.
"It's new to the market. Just fold it up, put it in your envelope, and send it with your normal mail. When they receive it the other end all they'll do is break off pieces, roll it up and put it in with their tobacco [and] smoke it."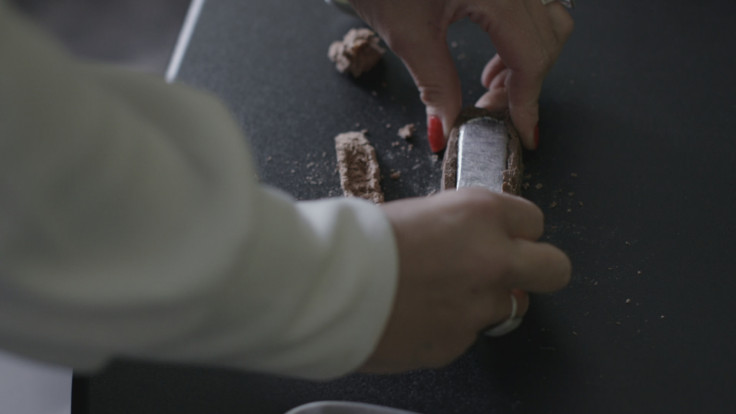 First sold as a legal high, spice is now banned by the government but can still be bought online. The drug, along with other new psychoactive substances, has been linked to almost 60 deaths of inmates over the past three years and is blamed for causing numerous cases of psychosis.
One disturbing clip taken by prisoners shows the devastating impact the drug can have on inmates. The video sees a prisoner, named only as "Simeon", 24, being egged on by fellow inmates as he smokes spice in a prison wing. Surrounded by laughing friends, he is then seen screaming in agony before collapsing after suffering a heart attack.
"My heart stopped," he later says. "That's when they pronounced me dead. I still went back after I've died. I went back and had a drug the next day."
He also spoke of seeing a friend go psychotic on the drug while in prison, "chopping" his penis off with a razor blade. Other clips taken by inmates see desperate addicts allow other "bored" prisoners to beat and humiliate them in exchange for a small portion of the drug.
Despite successive governments vowing to clamp down on illegal substances behind bars, inmates continue to say they "flood" jails. One former prison governor described spice as "the biggest health problem facing prisons".
One recent inspection of HMP Bedford, where 230 prisoners recently rioted causing £1m of damage, said it was easier to get drugs than basic items like bed sheets and clothes.
The documentary also shows the at-times tragic plight of the disproportionate number of prisoners with mental health problems.
Gangs are also seen filming themselves beat and bully mentally unwell inmates before sending footage to their parents demanding they pay cash for them to stop.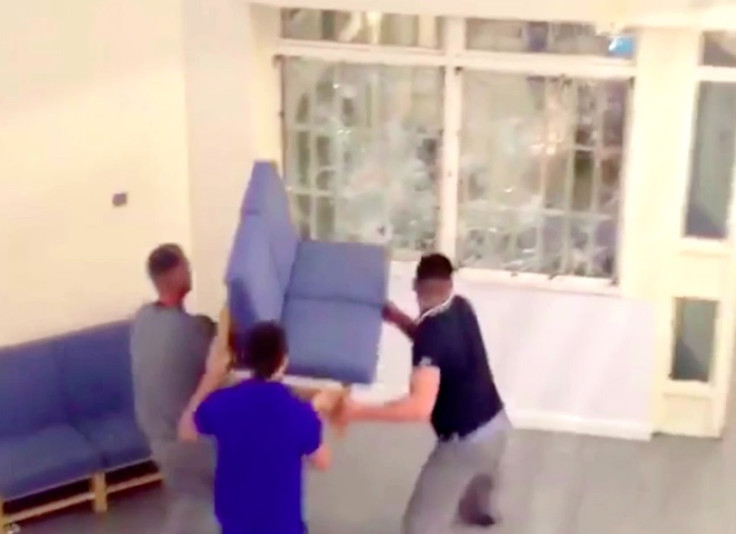 One clip shows Sam, a diagnosed schizophrenic, being punched in Guys Marsh prison over a debt he had racked up for spice.
"It's devastating. I've cried me eyes out over it to be honest with you. That's my son," his father, Jimmy, tells the programme after being sent the video. "You go to the officers, you try to get help, they don't seem to want to know. They want to put it under wraps.
"Funny enough, when I was in prison it would never happen. Bullying was never tolerated by staff or the inmates. But now I think it's become like anarchy. My son was sent to prison for committing a crime right, that I must accept. But at the moment, you're not being sent to a prison to be rehabilitated to think about your crimes – you're being put into a jungle," said Jimmy.
The documentary comes just a week after the head of the Prison Officers Association (POA), Mike Rolfe, warned that jails across the country had been engulfed by a "bloodbath", suffering record levels of violence.
A failed rehabilitation programme has also been criticised with government figures showing the 100,000 crimes committed annually by ex-convicts is currently costing the country £15bn per year.
The Ministry of Justice announced last week a £1.3bn investment plan in new prisons over the next five years, and plans for 2,500 extra officers, drug tests for prisoners and more autonomy for governors.
Justice Secretary Liz Truss, who presented a white paper announcing the reforms last week, also said "cutting edge" technology will be introduced to block the use of illegal mobile phones, while 300 sniffer dogs have been trained to detect new psychoactive drugs.
She said: "These extra officers and new safety measures will help us crack down on the toxic cocktail of drugs, drones and mobile phones that are flooding our prisons, imperilling the safety of staff and offenders and thwarting reform."
---
The Secret Life of Prisons: Cutting Edge is to be shown on Channel 4 at 9pm on Thursday (10 November).