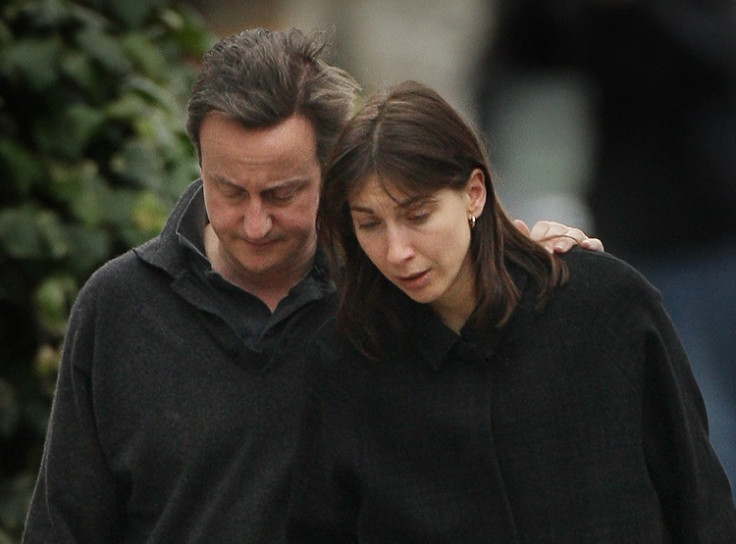 Samantha Cameron has described how everything became "irrelevant" after her son Ivan died at the age of six and that his death "overshadows everything". Ivan suffered from Ohtahara syndrome – a rare form of epilepsy and cerebral palsy – and died in 2009, one year before David Cameron became the UK's prime minister.
"Ive dying is such a massive thing that everything else is irrelevant. It just overshadows everything. What goes on in the outside world becomes meaningless," she explains. "Like anyone else in my situation, I just kept going. You have to deal with it, because you have no choice. For the whole time Ive was alive, you were always dealing with life or death situations, but it doesn't prepare you for when you are actually faced with it. When it happens, it is still a huge shock.
Samantha Cameron said the loss is "the biggest thing in my life" and that being the prime minister's wife was "just a role".
One of the ways she coped with the loss, she told the Times Magazine, was by hosting charity events at Number 10 where she would meet disabled children and their families, whom she would empathise with. Her New Testament Christian faith also helped her through the toughest times, she said.
Samantha quit her job as creative director of leather manufacturer Smythson before her husband succeeded Gordon Brown as prime minister in 2010. She was pregnant with the couple's daughter, Florence, and suffered from morning sickness. While David was attacked from opposite benches during Prime Ministers' Questions, Samantha was scrutinised over her wardrobe.
She was convinced the return to designing by Christopher Bailey, the chief creative officer at Burberry, and has launched her new label, Cefinn, earlier this week. The brand has earned positive feedback, she said, from industry supremos including Vogue editor Anna Wintour and the handbag designer Anya Hindmarch.
Away from the catwalk and onto the political pulpit, Samantha said she sees world leaders' families in human terms.
"I don't think, 'What are your politics?' but, 'Poor you.'", she said. "I watch Melania and think it must be so stressful deciding what to wear and making sure your hair isn't going to do something weird. It feels so lightweight to worry, but the truth is if you get it wrong there tends to be a bombardment of criticism, so it's not worth it, you have to try to do it well."