A key player in the creation of Amazon Go and Amazon Books has showcased a "roadshow" prototype for his next project called Blokable. The Seattle-based start-up is hoping to create affordable accommodation for communities using Lego-like modular, cube-shaped housing units, dubbed "Bloks", all kitted with the latest smart home technologies.
Inspired in part by the Tetris-style stacking of industrial shipping containers, former Amazon product manager Aaron Holm's creations are capable of being stacked together up to five stories high.
The start-up is starting slowly, with projects in its home city of Seattle, Palo Alto and Portland all focusing on delivering emergency housing for homeless people and low-cost installations.
Blokable is also working on a 24-unit apartment project in a Utah mountain range which is set to open in Spring 2018.
Concept images for multi-Blok housing shows the start-up's long-term ambition to create sci-fi-styled single-family homes, retail stores, and even entire shopping centres. Each Blok currently retails from between $150 to $350 per square foot, with lengths available from 18ft to 38ft.
As well as modular options such as balconies, staircases, kitchens and bathrooms, each Blok is also fitted with a smorgasbord of smart home tech for controlling electricity, water, temperature, lighting, security, and energy consumption monitoring, all via a single wall-mounted tablet. The "BlokSense" system also allows the homeowner to set their Blok to Home, Away, Sleep, or Vacation modes with a few taps.
But how is it different to other modular projects
Prefabricated housing with modular elements are nothing new of course, in fact the PLACE project in Lewisham, London adopting a similarly Lego-esque approach for low-cost housing, while Seattle itself has several start-ups pushing into the innovative sector.
Holm, however, is confident that its smart home tech separates it from the crowd, while also believing that the company's technology market-inspired construction process will save developers and buyers both time and money.
"The whole focus on product is about repeatability and scale, and having a lineup of SKUs that don't differ from project to project," Holm told GeekWire. "We are always using our building system product for the solution. We are not customising anything for any given project because you just can't reach scale when you are doing project work."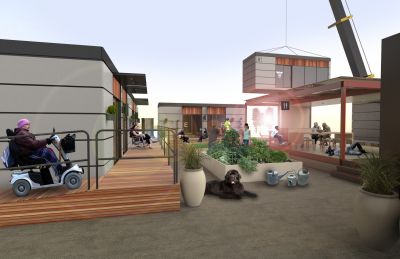 While the Blokable team currently consists of just ten full-time employees, that has not stopped the start-up envisioning ambitious plans for its future:
"Imagine a world where a community or a developer buys a plot of land to build a multi-story housing complex. They create the full building layout and get an immediate cost and time estimate for delivery and installation of the project. In a matter of months the project is completed and people and families are moving in," the team explained in a press release concerning its hopeful position in five years time.
"Customers will be able to pull 3D Bloks into their own design and modelling tools. Building inspectors will have real-time inspection tools, and Blokable communities will be fully integrated into their cities including transportation and energy, financial, social, and support systems."