Ex-Subway pitchman Jared Fogle's sentence upheld by federal appeals court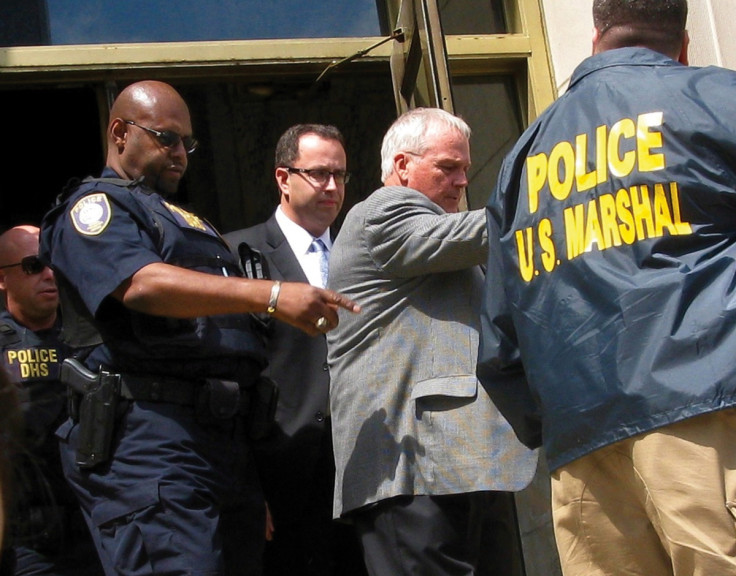 Former Subway pitchman Jared Fogle's sentence appeal was rejected on Thursday (9 June) by a three-judge panel at the 7th US Circuit Court of Appeals. Fogle was sentenced to more than 15 years in prison for child pornography offences and illicit sexual conduct with a child.
The 38-year-old pleaded guilty to one count each of distributing and receiving child porn and travelling to engage in illicit sexual conduct with a child in November 2015. His arrest and subsequent sentencing followed an investigation by the FBI that included a ride of his home.
According to the Associated Press, as part of a plea deal, prosecutors had agreed to not seek more than a 12 1/2 years sentence. Despite the plea deal, US District Judge Tanya Walton Pratt in Indianapolis sentenced Fogle to more than 15 years.
Fogle's attorney, Ron Elberger, then argued the judge abused her authority by sentencing him longer than the years sought by prosecutors. His attorney's had asked for a five year sentence. Elberger argued that Pratt was influence by Fogle's partnership with Russell Taylor, the former director of his foundation who was convicted of producing child pornography.
Fogle's defence attorney also argued that the judge based her sentence on his fantasies, rather than his actual actions and also based the sentence on his possession and viewing of child pornography of children as young as 6 years old.
The appeals court and US Attorney, Steven DeBrota, disagreed. "In light of the district court's sound exercise of discretion under the disturbing facts of this case, we uphold the above-guidelines sentence as substantively reasonable," the opinion written by Judge Joel Flaum noted.
DeBrota argued the punishment was just because Fogle knew some of the victims by name and on a personal level, Reuters reported.
Fogle is serving his 15-year sentence at the low-security Federal Correctional Institution Englewood in Denver, Colorado. The former sandwich-shop pitchman admitted he paid for sex with girls between 16 and 17 years old at New York City hotels. He also admitted to receiving child pornography produced by Taylor.
Along with his 188-month sentence, Fogle was ordered to pay $1.4M to his 14 victims and a fine of $175,000. Meanwhile, Taylor is serving a 27-year sentence for producing and distributing child pornography, reports USA Today.
© Copyright IBTimes 2023. All rights reserved.