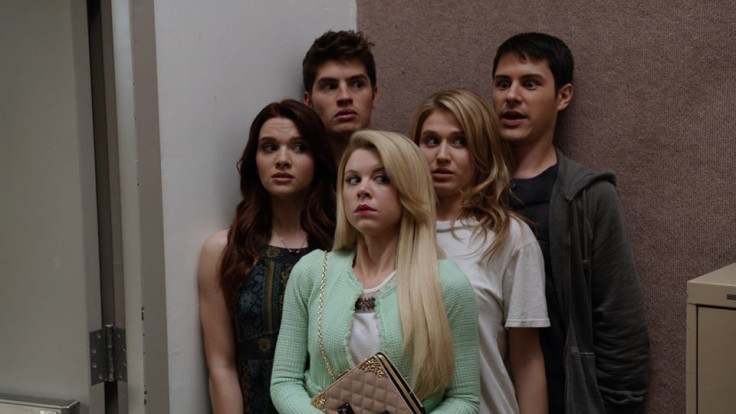 After pretending to the entire school that they are lesbians in season 1, Karma and Amy are back to their faking ways in Faking It season 2's episode 13 titled Faking It... Again, airing on Monday 5 October at 9.30/8.30c on MTV Network. The official synopsis reads as follows:
With Liam breaking up with Karma, and Shane with Duke, the two best friends decide to get over their exes by moving on. "We were hook up hunters and the world was our prey," Liam tells Shane to cheer him up and adds, "We will start tonight."
On the other hand, more trouble awaits Amy and Karma, as they are both unhappy that Karma's mother did not tell her father that she is not a lesbian and that they are not together. But we see Karma's father asking them to go together as a couple to a fundraiser event, and they agree. Karma says, "Yeah we will do it. Let's be lesbians.. again."
In the last few episodes, we saw that Amy's feelings for Karma had come back. Karma had kissed Amy in a drunken state and later forgot all about it, making it worse. The promo shows Amy telling Shane that she is not happy about pretending to be a couple.
"I have boundaries. No more hand-holding. No slow-dancing. No feels" we hear her say, as the video shows them holding hands and dancing together.
Another sneak-peek of the episode shows Karma and Amy at the fundraiser, and they ask Karma's mother if they have to do anything. "No, the important thing is you are here. If you are in a mood to, you can lend an ear to people opening up and share about their experiences."
While the fundraiser is not how it was originally planned, we see many people dancing, and a girl who is a "human tumbleweed." At the event we meet a lady who turns out to be Shane's mother, and she introduces Amy and Karma to Shane and Liam and refers to them as girlfriends. Both pairs pretend not to know each other, but Karma's mother points out, "They have drama together."