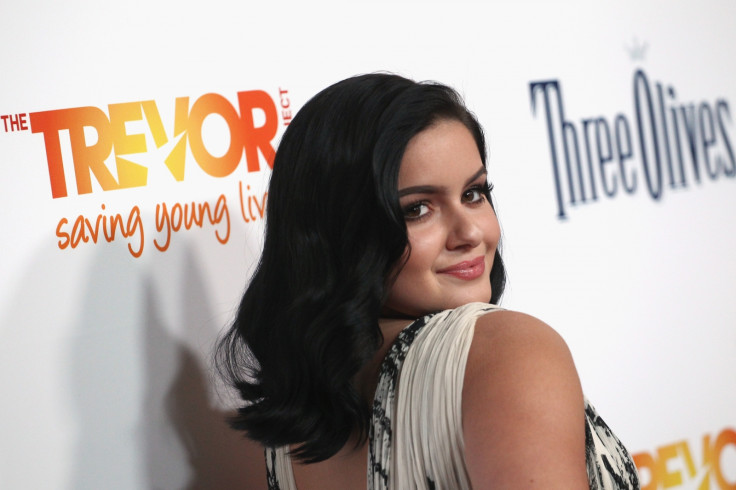 Despite the constant scrutiny by media, teen star Ariel Winter does not shy away from flaunting her curves or her flamboyant life both on and off camera. The Modern Family actress, who has been living in with her boyfriend Levi Meaden, recently took to social media to share her matching couple tattoos.
But little did she know that her seemingly innocent picture would soon spark another series of online backlash. Fans seemed to be distracted by Ariel's revealing outfit as she posed with her right arm slightly lifted to show off one of her brand new ink.
The 19-year-old got a sinuous snake etched on her arm just below a previous tattoo of Roman numerals – from the day she had moved in with her sister. While the focus was definitely not on her body art, Ariel drew much flak online for the teasing image.
An Instagram user bluntly wrote, "Show your t**s and get it over with. No one is waiting for you to be a feminist role model." Even her tattoo was not spared as a second observer added, "It looks like you got a pic of Ebola on your arm."
As the flurry of comments began, one user insisted that, "a close up probably would've made more sense," while another one joked, "Bc the first thing i looked at was your tat (sic)."
The picture in question showed Ariel flaunting her curves in an olive-green see-through outfit that even teased a glimpse of her lacy lingerie underneath. Instead of a zoomed-in shot of the tattoo, the teenager struck a pose in a dimly-lit passage.
"Where's what's you really want to show? Cross that line and show us," one user wrote, a second added, "I seriously did not see the tattoo for about 5 min ... Wow."
Amid the backlash, however, some defended Ariel, who has been quite vocal about body positivity in the recent past. "Your body confidence inspires me so much, especially as I struggle and fail with my own. Thank you," a comment read.
"You are an inspiration to so many girls and young women to be and live who they are. Keep doing you!" another fan complemented.
Not long back, the TV actress had opened up about struggling with body image issues and even admitted to feeling "so much better" after getting a breast reduction surgery.
"I've learned to not care about that as much. I'm comfortable in a bathing suit, scars and all," Ariel had said.