Faryal Makhdoom claims Amir Kahn's family think she is a 'bad Muslim'
Faryal Makhdoom Khan said she was bullied for three years by family members of her boxer husband.
25-year-old claimed she had a TV remote thrown at her by sister-in-law.
Faryal said bullying started after she moved into the Khan family home in Bolton.
Faryal Makhdoom Khan has claimed she was bullied by her in-laws and considered a "bad Muslim" because she exposed her bare skin. The 25-year-old, who married former world champion boxer Amir Kahn in New York in 2013, said she was subjected to years of mental and physical bullying after moving into the familiy's Bolton home even while she was pregnant with her daughter.
Speaking to The Sun on Sunday, the model said the boxer's older sister Tabinda once threw a TV remote at her while her parents-in-law were controlling to the extent of demanding to know when she was going to Asda.
Finally, she had enough. "I never felt I could do anything right. I was bullied physically and mentally," she told the newspaper. "One day I said, 'Enough of this s***, I'm going to speak up. I've had it for three years and that's enough'."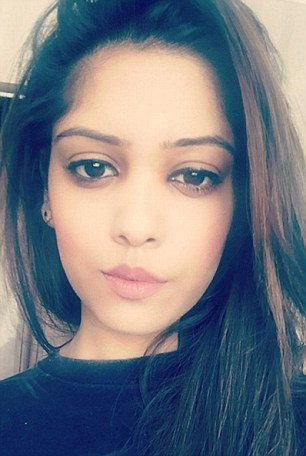 Amir Khan's sister Mariyah responded to the allegations posting a selfie with the message: ''Do I look like I can beat someone up?"
Mariyah Khan /Snapchat
Khan and Faryal were engaged in 2012 when the make-up artist was 21 and moved into the family home in the north of England one year later after a lavish ceremony in America and a traditional Walima in Manchester.
She said moving in with mum Falak, dad Shah, brother Haroon, 25, and sister Mariyah, 19, was a culture shock. "It was a big culture shock being an American in this northern town. There, they think you are a bad Muslim if you show a bit of skin. I felt like I didn't fit in."
She described how on one occasion, while Khan was away, his parents broke into the couple's bedroom at the home after she had locked the door.
There were also strict house rules, questions about how much money she was spending and an allegation - made by Khan's brother Haroon - that she disrespected the family at his wedding.
Family photos were also cropped, she claimed, to edit out her face and the family disagreed with her "modern" lifestyle.
"Amir didn't know what I was going through," she added. "They said, 'Ok, every morning she has to be up by 8am and make breakfast for the whole family. What a cheap and humiliating thing to suggest. They were basically saying that's all a daughter-in-law is good for."
For his part, Khan, whose last fight was a defeat to Mexican Canelo Alvarez in May, is attempting to keep the peace but says his wife is free to speak her mind.