Crowds took to the streets of New York and other US cities for a second night to protest against a grand jury's decision not to indict white police officer Daniel Pantaleo for his role in a confrontation that killed unarmed black man Eric Garner.
At least 3,000 protesters converged in Times Square, chanting at police, "Who do you protect?" Soon hundreds of officers shoved them on to pavements. Dozens were detained, although police declined to provide exact tallies.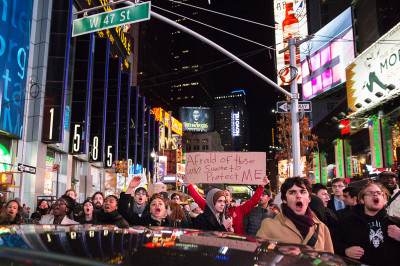 Unlike the 9 August shooting of 18-year-old Michael Brown in Missouri, Garner's encounter with New York police was captured on video by a bystander's mobile phone. It showed Pantaleo wrapping his arm around Garner's throat and wrestling him to the pavement as three other officers help subdue him.
Garner repeatedly gasped, "I can't breathe" – a phrase protesters have taken up as a rallying cry.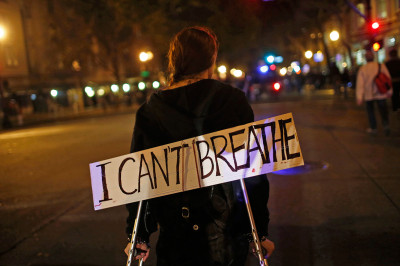 New York City Mayor Bill de Blasio, who took office in January promising to improve relations between minority New Yorkers and police, said the city's thousands of patrol officers would undergo extensive retraining.
"There's tremendous resolve here at the NYPD to find a way to draw closer to the community. To do things in a different way. To do thinks in a new way," de Blasio told a news conference. "People need to know that black lives and brown lives matter as much as white lives."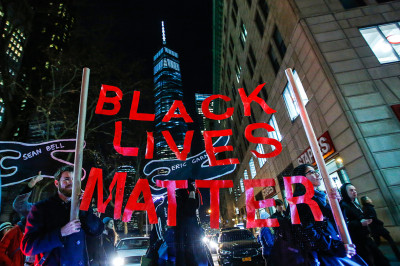 Elsewhere, hundreds also demonstrated in Washington DC, chanting, "No justice, no peace, no racist police," as they passed the Justice Department.
Protesters also blocked traffic on Interstate 35W in Minneapolis and on Lake Shore Drive in Chicago. Other demonstrations prompted officials to close two Bay Area Rapid Transit stops in Oakland, California, and re-route bus traffic around part of San Francisco's Market Street.