A former minister of President Ali Bongo Ondimba has been arrested in what commentators have described as a witch hunt by the new government.
Days of deadly rioting followed the controversial re-election of President Bongo, 57, on 31 August, after opposition leader Jean Ping accused the incumbent leader of vote rigging to secure a win and filed a request for a recount within the nation's Constitutional Court.
The situation is still tense in the central African oil producing country. One the one hand, the opposition is appearing increasingly divided over whether to answer the call for dialogue launched by President Bongo in order to end the political stalemate.
On the other hand, fear is gripping President Bongo's former collaborators, following his new government's promises to curb bribery and corruption, which flourished under the regime of his father, former President Omar Bongo.
The Gabonese government has been conducting raids on corrupt officials. On 11 January, local press reported the arrest of Magloire Ngambia, a personal adviser of the president who left the government in 2015.
Ngambia, who held the positions of minister of economy, commerce, industry and tourism, and minister of investment promotion, infrastructure, housing and land management between 2012 and 2015, was heard by the General Police Directorate before he was driven to prison in the capital Libreville.
The former minister, 46, is being prosecuted for misappropriating public funds, particularly in the housing sector, an area where President Bongo faced the largest debacle of his first term. According to auditing firm KPMG, during March 2011, the civil servant's whole staff at the Ministry of Housing was dismissed due to corruption.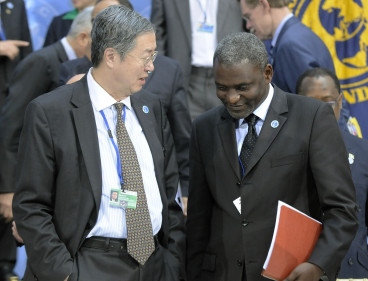 Ngambia was arrested alongside another high-ranking official, Blaise Wada, who manages a European Union-funded sanitation project in Libreville. "For all the people who are being investigated today, the principle of the presumption of innocence must prevail," government spokesman Alain Claude Bilie By Nze said during a press conference in the capital on 11 January.
According to RFI, the next swoop may target former ministers who joined to the opposition, a claim the spokesman refuted, adding: "This is not a witch hunt at all."
Described by RFI as "a real thunderbolt in the Gabonese public life", the arrest of Ngambia would have been unthinkable during President Bongo's first seven-year term in office. Originally from Haut-Ogooue – President Bongo's home province – Ngambia was seen as a "true minister of heaven and Earth".
The most prominent former ally to face the wrath of President Bongo's government is Etienne Dieudonne Ngoubou, former minister of petroleum and hydrocarbons, who was dismissed on 9 January.
As his re-elections effectively extended the Bongo family rule over Gabon into a sixth decade, President Bongo, who was defence minister under his father and took over the resource-rich nation in 2009 when Omar Bongo died, denied he is a continuation of his father's rule.