Fear The Walking Dead season 2 is heading towards an interesting juncture where the younger characters are learning survival tactics in the post-apocalyptic world quite fast. Nick, Madison Clarke's drug addicted son, has already found the super formula of staying safe for the walkers (a trick that Rick Grimes and his friend couldn't figure out in seven long years).
Nick has learned that getting smeared in zombie blood keeps him undetected by the undeads and the promo of the upcoming episode also suggests that he will try the trick again to kill a few more walkers.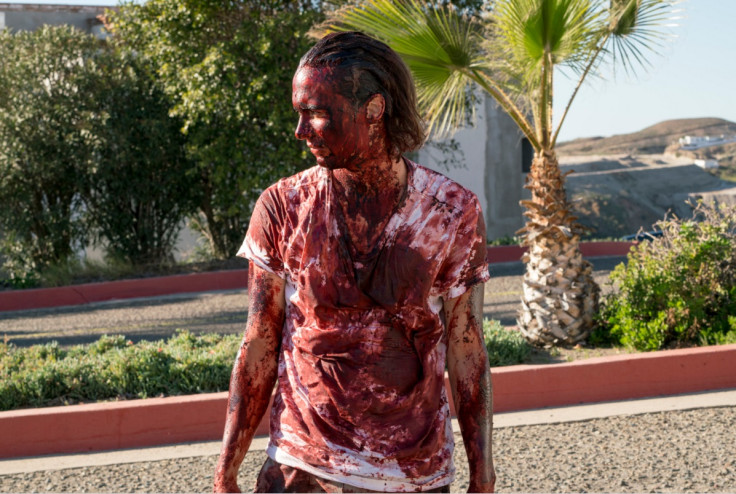 The previous episode finally revealed the fate of the passengers of Flight 462 but the shocking end of the third episode was just a prologue to what fans can expect from season 2 and a recent warning by executive producer Dave Erickson makes the series more interesting to watch.
In an interview with EW, he has teased that the upcoming episode will reveal a piece of history about Victor Strand but the passengers of Abigail will have to deal with another nightmare in episode 4 Blood In The Streets.
He said: "Next week we're the tension on the boat is heightened now because of what Strand just did. Madison and Travis are desperately trying to figure out what's the best play, and just as they're about to make that decision, they're interrupted by something tragic, and horrible, and violent. So there's going to be a big shift next episode, which is going to redirect everyone's attention. It's going to be good."
In the previous episode, the ruthless Strand cuts the rope of the boat that had kept Flight 462 survivors Alex and Jake in tow. This infuriates Madison and makes Travis Manawa and David Salazar start rethinking about their own safety.
Fear The Walking Dead season 2 will return at 9pm on Sunday 1 May on AMC. The episode will simulcast in the UK on 2 May on BT at 2am.