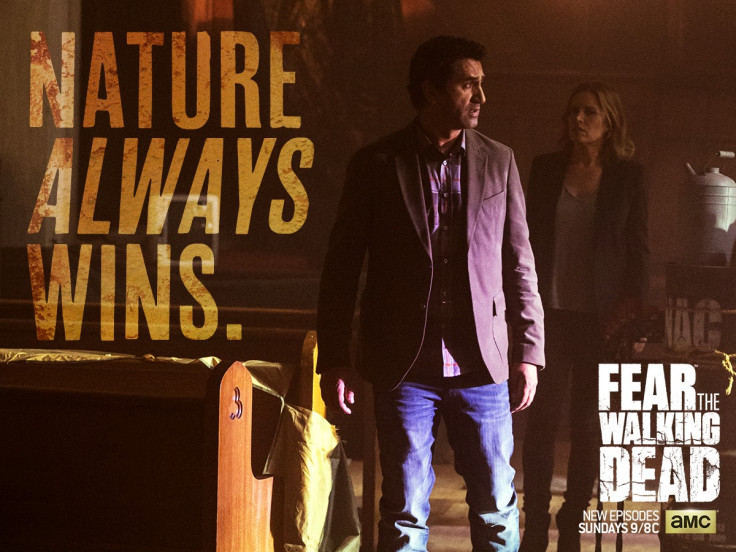 Fear The Walking Dead finally unravelled more zombies and their terrifying attacks on the lead characters in episode 3, "The Dog." The walkers have already started swarming across the streets of Los Angeles, but it appears Travis still doesn't get the importance of counterattack in order to safeguard his family from the looming apocalypse.
Madison, on the other hand, wants to grab a shotgun from her neighbour's house in order to protect her son Nick and daughter Alicia from Peter, her neighbour-turned-walker from across the street. They come face to face before Zombie Peter.
But Travis comes just in time to save them (or at least Maddie and her children think so) until he tries to "discuss" things with the walker. Daniel Salazar saves the situation by arriving just in time, shooting straight at Peter's undead brain.
The high school teacher still trusts the authorities and believes that help will soon come to cure Griselda, Daniel's wife who was injured during their escape from the riot and flesh-eating walkers.The series is set to take an important turn as emotions take root on the sides of the good and the bad.
While Travis tries to solve the situation by "communication" with the infected humans, Daniel emerges as a cold-blooded protectionist who can go the Rick Grimes way in order to protect his family. Madison too holds a little bit of Daniel's attitude, already proving it by killing her school principal in a bit to save Tobias's life.
The official synopsis of episode 4 titled, "Not Fade Away," reads: Madison and Travis witness different sides of the National Guard's occupation of their neighbourhood. The upcoming episode may break Travis's confidence of the security forces and there are chances he too will wield weapons to stay alive and move towards a sanctuary.
Fear The Walking Dead episode 4 will return on 20 September in the US on AMC Network.