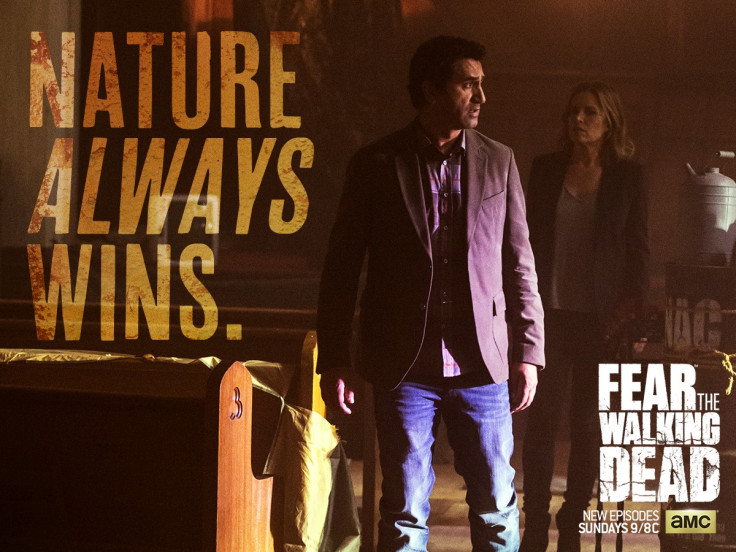 There will be no new episode of Fear The Walking Dead this Sunday in the US as the country is celebration the long Labor Day weekend. But for fans who still can't get enough of the TWD companion series can still watch the first two episode as AMC will re-run the premiere and second episode on 6 September.
Life in Las Angeles is rapidly shrinking into trash due to the mysterious flu virus prompting Madison and Travis to save their families by reaching the 'desert'. Episode 3 of the AMC original is titled as 'The Dog' and will focus on the teacher couple's struggle to keep their families safe from the violent riots and the fatal disease that is turning humans into wrathful animals.
The synopsis of episode 3 reads via TV Guide: Travis, Liza and Chris seek refuge with the Salazar family after escaping a violent riot. Meanwhile, Madison defends her home.
Watch clips from The Dog here:
In the upcoming episode, Madison and her daughter Alicia will witness a deadly birthday party in their neighborhood following the mysterious outbreak and this triggers them to bunker down in their home.
Meanwhile, the Manawa and the Salazar family will try to escape the chaos and drive down to safety while trying not to turn into a victim of the tragic situation.
The couple was planning a happy future together living in the city where people come to escape, shield secrets, and bury their past, will now try to survive the deadly flu stay alive.
The gritty drama set during onset of the undead apocalypse had a slow premiere, but it established each character perfectly well in viewers' hearts and minds. The second episode showed the school principal turning into a zombie and attacking Tobias. But this is just the beginning as fans can expect much more characters transforming into the 'undead' and attacking people in LA.
Fear The Walking Dead episode 3 will air on 13 September on AMC network. Watch the episode live online on your PC by clicking here or on your Android and iOS devices using the AMC app.