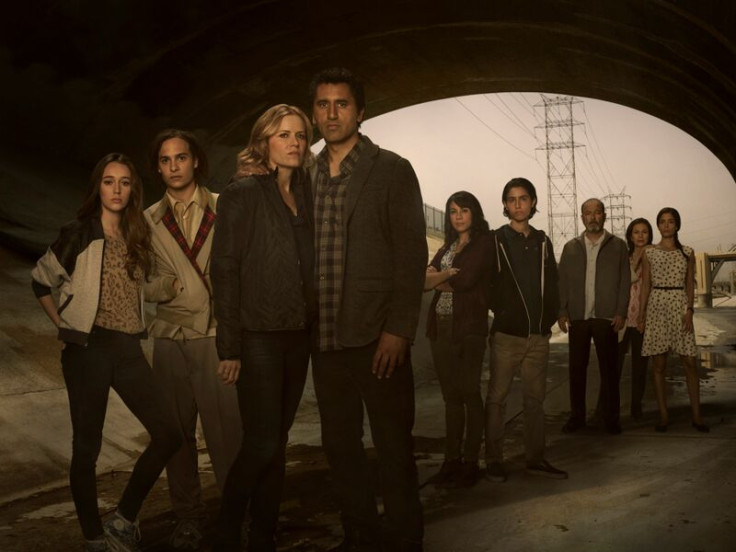 A spinoff of cable TV's highest-rated show comes with both its pros and cons. The Walking Dead has developed one of the most loyal fan bases any drama could ask for so an off-shot series would, surely, be appreciated. But then, after emotionally-investing into the characters and plotlines over five seasons, the question arises as to whether or not viewers really want a fresh group with a whole new set of rules to get to grips with.
This is the huge risk faced by zombie apocalypse prequel Fear The Walking Dead. The season one premiere episode certainly showed bundles of promise but it was also hard not to miss seeing Rick Grimes' tense stare or his sidekick Michonne ready to strike dead a walker with her katana. The differences between the two shows are clear from the start – whereas TWD enjoys a blend of blood and gore with character development, FTWD slows down the pace with incredible focus on the ins and outs of a disconnected Los Angeles family.
It is a relatable family unit at that with moody teenagers and divorced parents providing the centrepiece of the series. Matriarch Madison Clark, played by Gone Girl actress Kim Dickens, has a lot on her plate to contend with. Her son Nick, played by Frank Dillane, is a heroin addict who witnessed his girlfriend, Gloria, chomping on another junkie but is not quite sure if what he saw was reality or a drug-induced hallucination. It is interesting to see how early on in the epidemic the prequel begins as infected Gloria looks relatively normal compared to the walkers in Atlanta.
As her son edges closer to falling off the deep end, it is down to Madison to keep the family together. There is no sign of that happening though with her daughter Alicia planning on leaving town with her boyfriend and Madison's partner Travis, played by Cliff Curtis, embroiled in his own personal dramas, namely an ex-wife and son. The intense focus on the family dynamic is understandably necessary to give depth to the series but towards the middle of the episode, it becomes tiresome.
Watch the Fear The Walking Dead trailer:
There are, thankfully, brief moments of relief when the focus shifts back to the virus and the audience are introduced to one of Madison's students Tobias, who has noticed the strange flu-like outbreaks in several states and realises there will not be a good ending. It will certainly make for an interesting arc as the season progresses but with Madison refusing to believe his predictions about the apocalyptic future, Tobias will have to wait for another day to become a hero.
Instead, stealing the spotlight is junkie Nick whose drug-induced actions find him experiencing the unstoppable and relentless nature of the walkers. The teen's battle with his drug dealer-turned-walker provides for a thrilling ending to an episode that was beginning to drag along. Dillane's performance was undoubtedly standout although his character runs the risk of annoying audiences quickly. Dickens delivers in her role as the glue holding the dysfunctional family together but there is still room to warm up to Curtis and Alycia Debnam-Carey, who plays Alicia.
Fear The Walking Dead has just five more episodes left to prove itself as a worthy sidekick to The Walking Dead but it did not hugely disappoint with its first outing. It is refreshing to see new faces and a thriving, bustling area as opposed to the desolate forests of Atlanta but FTWD has a while to go before it matches up to our favourite survivors.