At least 30 people have been killed in twin bomb blasts at a market in northeastern Nigeria, the military has said. The twin bombings, blamed on Boko Haram terrorists, occurred in the town of Madagali, Adamawa state.
Two female suicide bombers detonated their explosives in a busy market, an army spokesman told AFP news agency.
Although no group has claimed responsibility, suspicion is likely to fall on Boko Haram, renowned for kidnapping civilians and forcing them to carry out suicide bombing missions in crowded areas.
Military offensive and hunger crisis
Boko Haram is renowned for setting entire villages alight, kidnapping thousands of people and using civilians as suicide bombers. Although the group originally carried out attacks in Nigeria, the conflict soon spilled over into neighbouring states Cameroon, Chad and Niger.
Nigeria's President Muhammadu Buhari, who vowed his administration would defeat Boko Haram – has repeatedly called for a global effort to tackle the humanitarian crisis in the Lake Chad water basin, which comprises Chad, Cameroon, Niger, and Nigeria.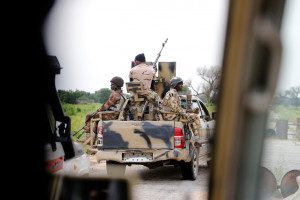 In addition to its own military operation Lafiya Dole, Nigeria is now leading a regional offensive – consisting of 8,700 troops from Nigeria, Niger, Chad, Cameroon and Benin – against Boko Haram.
The offensive has scored some successes, such as the recapture of key territories and the release of thousands of civilians held captive by the group.
Earlier this year, the UN warned at least 400,000 children in northeastern Nigeria alone are now at risk of starvation as a result of prolonged violence and displacement.
In December, the UN launched a $1 bn (£783m) funding appeal to help tackle what it defined as "the largest crisis on the African continent."
However, Buhari accused the UN and aid groups of exaggerating the extent of a hunger crisis in order to receive more funds.
Who are Nigeria's Boko Haram?
Boko Haram, which has renamed itself Iswap, fights against Western influence in Nigeria and aims to impose its version of Sharia law throughout occupied territories.
The group launches attacks in Nigeria and neighbouring countries in a bid to take control of more territory. Three Nigerian states – Adamawa, Borno and Yobe − have been under a state of emergency since May 2013.
Boko Haram has killed more than 20,000 people since 2009 and was deemed the world's deadliest terror group, surpassing Islamic State in November 2015. Nigeria has also become the world's third-most terrorised country as a result of the group's violent insurgency.
---
Nigeria up close: Check out our Flipboard magazine
---