Nigeria's President Muhammadu Buhari has accused the United Nations of exaggerating the extent of a hunger crisis in the country's north-east in order to receive more funds. Several north-eastern states have been affected by a seven-year-long insurgency by Boko Haram terrorists, who have killed at least 20,000 people and displaced millions.
Earlier in December, the UN launched a $1 bn (£783m) funding appeal to help tackle what it defined as "the largest crisis on the African continent."
The funds would help nearly 7 million people in the three states most affected by violence, Borno, Adamawa and Yobe.
The UN further warned that nearly 5.1m people are expected to face serious food shortages , and at least 400,000 children are now at risk of starvation.
However, Nigeria's President Muhammadu Buhari has accused the UN and aid agencies of exaggerating the situation.
"We are concerned about the blatant attempts to whip up a non-existent fear of mass starvation by some aid agencies, a type of hype that does not provide a solution to the situation on the ground but more to do with calculations for operations financing locally and abroad," the president said in a statement issued by his spokesman Garba Shehu, according to Reuters.
"In a recent instance, one arm of the United Nations screamed that 100,000 people will die due to starvation next year. A different group says a million will die."
Earlier this year, Nigeria launched what it called an "inter-ministerial task force" to tackle the humanitarian crisis in the north-east of the country.
"Nigeria has been providing food support, reintegrated healthcare, shelter, psycho-social support and access to water and sanitation amenities for those in need. We are also engaging highly respected community and religious leaders to discourage vulnerable youth from being radicalised," Buhari said in September.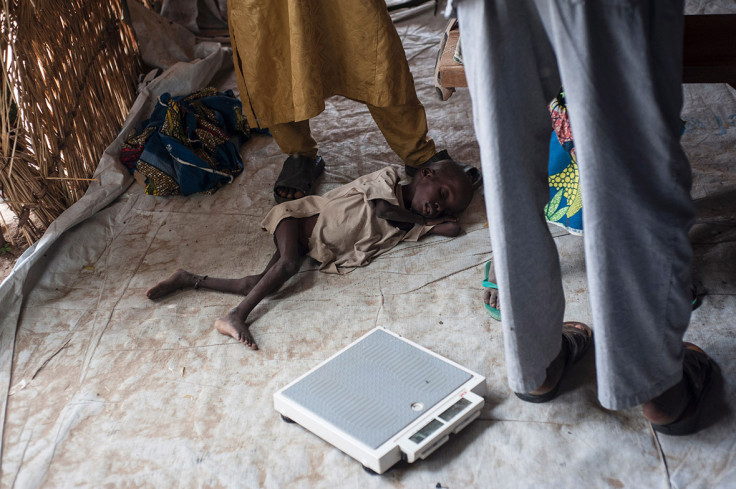 Lake Chad crisis
Boko Haram started carrying out attacks in Borno in 2009. However, the conflict soon spilled over into neighbouring states Cameroon, Chad and Niger.
The area, known as Lake Chad basin region, is one of the poorest of the world and is witnessing a deep humanitarian crisis exacerbated by the negative effects of climate change.
At present, at least 2.6m people have been displaced by Boko Haram and nearly 7m people are facing hunger and potential starvation,according to aid agencies.
People are displaced from their farms and away from the lake and, due to security concerns, markets have been closed in areas at risk of attacks. This has led to food shortages.
---
Nigeria up close: Check out our Flipboard magazine
---
Who are Nigeria's Boko Haram?
Boko Haram, which has renamed itself Iswap, fights against Western influence in Nigeria and aims to impose its version of Sharia law throughout occupied territories.
The group launches attacks in Nigeria and neighbouring countries in a bid to take control of more territory. Three Nigerian states – Adamawa, Borno and Yobe − have been under a state of emergency since May 2013.
Boko Haram has killed more than 20,000 people since 2009 and was deemed the world's deadliest terror group, surpassing Islamic State in November 2015. Nigeria has also become the world's third-most terrorised country as a result of the group's violent insurgency.