Ferguson Protests: 16 Arrests in Missouri and Unrest in Other US States
Demonstrations marred by violence, despite Brown family's plea for peace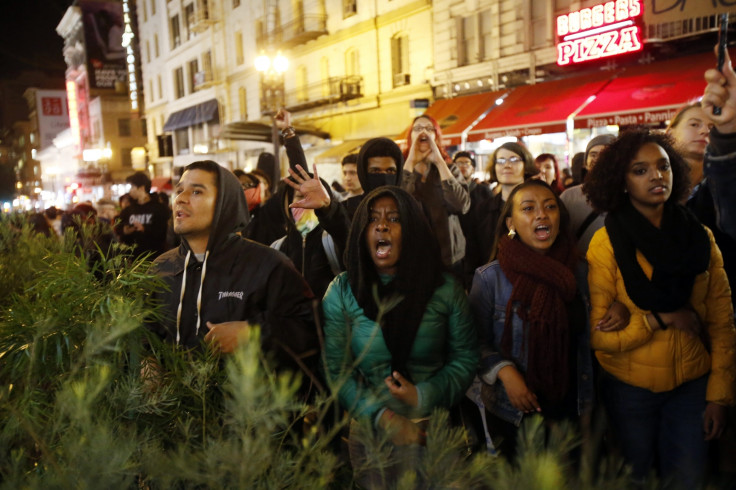 Demonstrations beset by violence are continuing around the US, after the Missouri grand jury decided not to indict Darren Wilson for shooting dead unarmed black teenager Michael Brown.
The St Louis County Police Department said they made 16 arrests between Friday night and Saturday, local time. All charges were for disturbing the peace and one person was charged with assaulting a police officer and resisting arrest. One officer was reported injured.
"Ferguson police, you can't hide – we charge you with genocide!" the group chanted in front of scores of officers and members of the National Guard. The demonstrators held a banner that read: "NYC Students Fight Racist Police Terror."
Young man held sign saying "free hugs" at a Ferguson rally. This cop took him on the offer. This is beautiful. pic.twitter.com/q5eH0OyRP8

— World Star (@WorldStarLaughs) November 29, 2014
2pm today. We plan the next steps. Join us. #Ferguson pic.twitter.com/8Q4i7McIXi — deray mckesson (@deray) November 29, 2014
In San Francisco, two police officers were injured as demonstrators smashed windows, set off fireworks and threw objects at police.
One officer was taken to hospital for stitches after he was hit with a bottle that struck him in the face. Sergeant Monica Macdonald said another officer was hit in the chest by a brick, according to an AP report.
Earlier, the crowd marched through the heart of the city's shopping district and arrived at Union Square, where police stopped them from disrupting the lighting of a Christmas tree.
In Oakland, police arrested 14 of 25 people who chained themselves and shut down the West Oakland BART station, said Alicia Trost, the Bay Area Rapid Transit system spokeswoman.
About 125 protesters wearing T-shirts reading "Black Lives Matter" gathered at the Bart station and interrupted service for about two hours until police cleared the station and service was resumed.
"This has grown from a moment to a movement," said Leslie MacFadyen, who runs a website that aggregates information about the hundreds of Ferguson-related protests nationwide. "And part of it being a movement is that the activity needs to be sustained. There are many things that are going to be planned in the coming weeks and months."
© Copyright IBTimes 2023. All rights reserved.