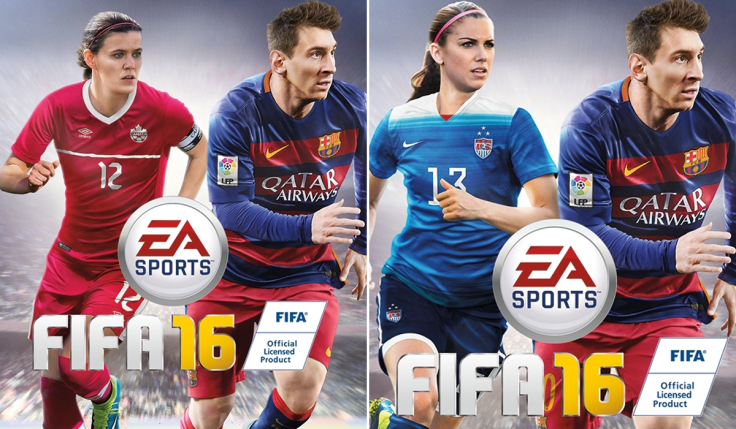 Ahead of its official release on 22 September across Xbox One, Xbox 360, PS4 and PS3 platforms, EA Sports' Fifa 16 has generated increased hype. Loyalists across the world, especially those owning comparatively older gaming consoles such as the Xbox 360 and PS3 would naturally be curious about the feature set that the game offers.
Now, as an answer to the most obvious question regarding what features will be available for users of Microsoft's Xbox 360 and Sony's PS3, the official functionality set that EA Sports offers gamers on these platforms have surfaced. Players owning Xbox 360 and Sony PS3 are advised to remember that not all features, applicable to newer Xbox One and PS4 consoles, will be available.
What Microsoft Xbox 360 and Sony PS3 owners will not get:
EA Sports says that the following aspects have been cut off, for Xbox 360 and PS3 users:
FIFA Interactive World Cup
Match Lobbies
Secondary English commentary with Clyde Tyldesley and Andy Townsend
Creation Centre
Custom Music and Chants
In-game presentation with Jeff Stelling
However, those owning PS3 and Xbox 360 consoles can look forward to the following list of features that Fifa 16 will offer:
Innovative Gameplay: Use customised tools to prevent opponents from taking possession of the ball. Fifa 16 is also claimed to offer comparatively greater co-ordination with respect to defence and attacks.
Defend as a unit: Players will be able to cover gaps better, with increased co-ordination between teammates. Fifa 16 is also claimed to be enhanced with better Artificial Intelligence that updates players with awareness regarding vital aspects of gameplay.
No Touch Dribbling: This feature lets players take time out (from tackling for the ball) to formulate newer strategies. Gamers could also use this aspect to boost creativity of players.
Moments of Magic: Lets players unlock newer defences and create specialised moments of glory. Gamers should also notice these moments stored under Achievements.
Passing with Precision: Gamers should get to experience accuracy/sharpness when passing the ball to teammates. With ping-driven ground passes (an enhancement), the opposition's tight defence can be substantially breached to resort to passing the ball cleverly so as to increase chances of scoring goals.
Apart from these features, gamers on Xbox 360 and PS3 can also look forward to basic in-game functionality such as:
Better control/co-ordination in midfield
Enhanced player skills
Better defensive tactics
Enhanced ball tackling skills
Better striking skills
Available game modes: Xbox 360 and PS3 users get to check out the following newer game mode:
FIFA Ultimate Team, featuring FUT Draft
Customised Practice Arena
Career Mode
Pro Player
Pro Goalkeeper
Tournament Mode
Women's International Cup
Online Seasons
Online Friendlies
Skill Games
Kick-Off
Play Next Fixture
With respect to FUT, Xbox 360 users (only) get to check out 56 legendary players from Fifa 15. Legends can be drafted, into a customised dream team, and checked out irrespective of nationality.
Stadiums: Gamers can choose from 50 licensed and 28 generic stadiums from across the world. Nine new stadiums, from across geographical regions, can be checked out in the game.
Commentary: Commentary will be delivered in Arabic, Brazilian Portuguese, French and German. Languages such as Italian and Latin American Spanish have also been included.
[Source: EA Sports].