Fifa 17 was officially revealed during EA's pre-E3 2016 press conference in Los Angeles, and all the talk is about its ambitious new single player mode: The Journey. With dialogue trees, melodramatic cut scenes and off-the-pitch antics, it's like nothing we've seen from the Fifa series before.
At a preview event held a couple of weeks prior to the conference, IBTimes UK sat down with series line producer Aaron McHardy to discuss the strange-but-intriguing new mode. Our preview, which includes our impressions based on a short demo of The Journey, will be published soon.
The Journey is really unlike anything in the series to date, so why bring it in now, and what does it add to Fifa?
I think it adds a whole lot, a whole other world of football that we haven't been able portray in Fifa. We've taken players behind the scenes to see locker rooms, tunnels, the lead character's bedroom, airplanes, all sorts of environments we haven't seen before. It's the other side of the world of a professional footballer, which is super-exciting. Why is a good question, and why now? I think it's a direct result of the Frostbite engine, which we're moving over to this year. We would not have been able to make The Journey without Frostbite. I mean, we could have done it technically, but it would have taken an age for us to create the environments, light them, create scenes – we couldn't have done that in the time we have. Frostbite has flung the door open in terms of what we can do in terms of a narrative storyline.
The Journey focuses on a character called Alex Hunter, who is English, grew up in England and plays in the Premier League. Will the character and leagues change from region to region?
The Journey is going to be entirely in England this year, so it's going to be focused on the Premier League. It was a tough decision, because there are so many good leagues to choose from – but we knew that most people in our games play in the Premier League, we know it's the most-watched league in the world and the other factor that was very interesting for us, is that there's actually the most international representation in the Premier League – I think there's something like 64 different nationalities represented. Plus, we have all the assets, the stadiums and all that in the build, so we can keep it as authentic as we can.
Did you ever consider having a custom player character?
We did, and we decided against it because customising the player seems like a simple, trivial thing, but it has ramifications through the story that are extensive. So, allowing that level of customisation can explode the scope of the work that we have to do, and the scope of the mode we're building. In terms of what people see, perhaps the bang isn't worth the buck. The reason we considered it was, we wanted people to be intrinsically attached to the main character of the story, and if you create that player you'll be more attached, but what we found was that the connection to the character came from the action, which is why one of our pillars for the journey is making sure that everything you do on the pitch and during the game is fed back to you, in your story. Having what the player does matter is more important for us.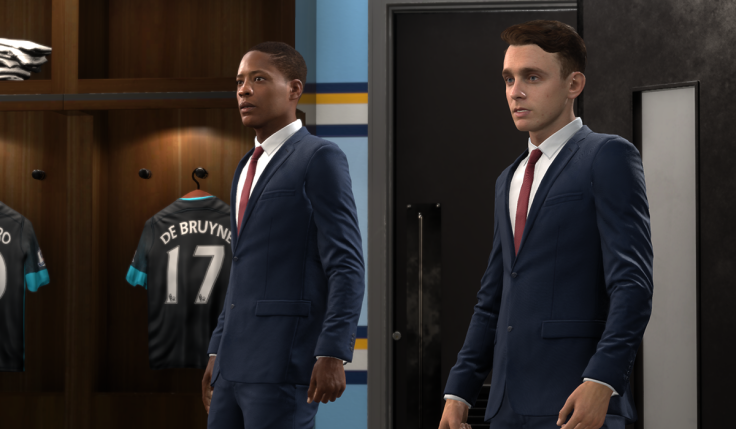 Is it perhaps something you could bring in further down the road?
Technologically there's nothing that would stop us from doing it, but I can't comment on what will come in on future Fifas.
When Alex Hunter joins a team, will it always be a Premier League club? And if he's ever loaned out to a smaller club, could that be to a lower league side?
So, erm, I don't want to give away too much from the story but what I can tell you is that when he signs his first contract in the story it's with a Premier League club. I don't want to give away too much of what can happen along the way, about loans and all that, but you will get a choice of Premier League clubs as you play for scouts and contracts are offered to you, but what they offer you will vary in quality depending on your performance.
We saw a scene set in Alex's bedroom. How deeply will The Journey get into off-the-pitch drama?
So while one of the pillars is definitely connectivity to on-the-pitch action, we do delve into Alex's story and you'll have seen that he does come from a lineage of footballers – his father was a footballer, his grandfather – you'll meet his mother, fellow player and lifelong friend Gareth Walker, you will see other characters that don't play football with him. We do delve into those things, and I don't want to give too much away but there's more to this side of football than matches and training.
If you play well you're obviously going to go far in The Journey, but what if you play poorly? How low can the mode allow the player to go?
Your play, the connection to the on-pitch action, is very important to us, and we want your actions to be felt. So you can play so poorly that it effects the story. In fact, in some cases there are actually fail states, where if you don't perform you lose and have to try again. If you're not playing well, you'll hear from the manager and have to address this.
You were wary of getting into spoilers, but can you tell us about the mode's end-game? Is it the Premier League, the World Cup, European glory?
It's a big question, and I wish I could give you answer today, but unfortunately I'm not at liberty to say. What I will say is, we're going to reveal more about The Journey along the way. We are still iterating on things, which is why I won't say definitively on the ending, but I will say is we're investing a lot in The Journey and it's not just a quick mode, it's the biggest new mode we've introduced since Fifa Ultimate Team.
Is The Journey something that you could potentially release DLC for, given it is story-led? Maybe a different player or a different chapter in Alex Hunter's career?
Theoretically and technically that's all possible, but again, we can't comment on anything past the game we're building for release in September. I can't comment on whether there will or won't be DLC at this point.