Fifa 17 pays tribute to Chapecoense plane crash victims with free Ultimate Team kit and badge
Fifa 17 players can don the colours of the club in the game's UItimate Team mode.
EA has paid tribute to Brazilian football club Chapecoense following the devastating plane crash in Colombia that claimed 71 lives, including the majority of the team, their manager, members of the backroom staff and other passengers.
Fifa 17 Ultimate Team players have been given the Chapecoense home kit and badge for free, with an accompanying message (below) encouraging them to switch their team's kits and badges in a show of support for the club and those affected by the tragedy.
The move was made following a request from Fifa's Reddit community, which EA quickly took on board and implemented.
In Fifa Ultimate Team (FUT) players build their own teams using in-game currency acquired through play or bought via real-world transactions. These unlock packs that include cards representing players, kits, badges and other modifiers used to improve the quality of these squads.
Individual cards can be sold for coins on the FUT marketplace, creating an in-game economy. Following news of the disaster, Fifa's Reddit community was also concerned that a desire for players to buy Chapecoense's kit and badge would drive the price up and allow people to gain financially from the tragedy.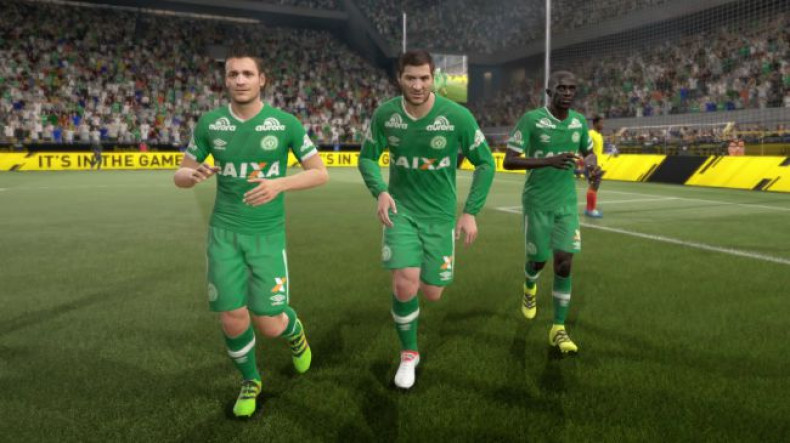 According to GamesRadar this had been happening, with some players purchasing the club's kit and crest then relisting them on the marketplace for the maximum price of 5,000 coins – equivalent to roughly £35 (based on the price of points cards available on Amazon).
The crash occurred in the early hours of Monday morning (28 November), when a chartered jet crashed on its way to José María Córdova International Airport, just outside of Medellin, Colombia. There were 77 people on the flight, of which 71 died and six survived.
Chapecoense are a Brazilian top-flight club, but only returned to Serie A in 2014 after a lengthy stretch in lower divisions. The team was scheduled to play Atlético Nacional in the final of the Copa Sudamerica club competition (similar to Europe's Europa League) but the match has now been postponed.
Thousands of the club's fans have gathered at Chapecoense's stadium, the Arena Conda, to mourn those lost in the disaster.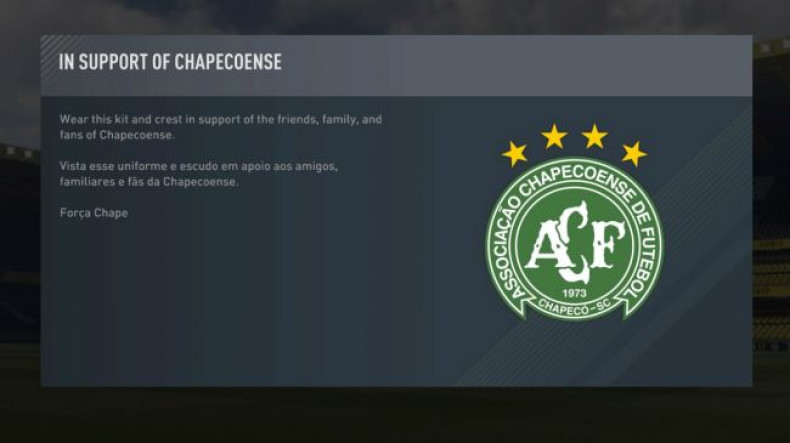 For all the latest video game news follow us on Twitter @IBTGamesUK