EA moved in to take the opening E3 press conference spot that Bethesda owned and revelled in last year, but that certainly didn't seem to faze the Fallout publisher as it took to the stage with a ton of quality announcements, and a few surprises, to make its second E3 conference a huge success.
Things started off with a bang, as Tim Willits, one of the brains the seminal Quake series, took to the stage to announce Quake Champions. This new entry in the Quake series will (unsurprisingly) be a competitive arena-style FPS for PC, which should make it a perfect candidate to become an eSport in the future. At least, that is what Bethesda is hoping for. It announced that it would be supporting the game's competitive scene and expanding it with more major events, as well as events at the annual Quakecon fan event. Interestingly, Quake Champions will have an unlocked frame rate, meaning those monster rigs could be required to get a small competitive edge.
The franchise is loved by many, as was made clear by the massive cheer it got from the crowd in the LA Hangar, and with Doom doing so well, it almost seems like a no-brainer for id and Bethesda to reinvigorate another classic shooter series. I for one am very excited by the thought of having a proper old-school arena shooter in the eSports world.
The conference simmered down for a little while after that announcement, with a look at card-game Elder Scrolls Legends, which is now also coming to phones and Mac, and news of three new Fallout 4 DLC packs, including a trip to Nuka World and a new vault building pack. Fallout Shelter was also announced to be coming to PC, later this year.
Then just as we thought the Bethesda Game Studios section was over, the iconic Skyrim theme blasted the building, and despite knowing exactly what was coming, I'm not ashamed to admit that I got goosebumps. A Skyrim remaster is heading our way later this year, on 28 October to be precise, and I couldn't be happier.
Comparisons were shown comparing last-gen versions to the new PS4 and Xbox One versions, and the differences were stunning. The art and effects have been totally remastered and new technologies such as advanced snow and water shaders make everything seem that little bit more lifelike. The big new feature is that, much like Fallout 4, mods will be available on consoles, and with some of the impressive work people put into the PC version this will only make the Special Edition even better.
Raphaël Colantonio, creative director and CEO of Arkane Studios, then took to the stage, not to talk about Dishonored 2, but to reveal Prey. After years in development hell, it seems like Prey 2 has been scrapped in favour of this new outing from Arkane, and the mostly CGI trailer was enough to confuse almost everyone while leaving us wanting to see much more.
Set on a space station in 2032, the player starts off as a test subject, but (of course) everything goes to pot with an alien threat on-board the ship. It appears to be a first-person shooter, with puzzle and stealth elements, and a psychological horror edge.
For those of us not old enough to have played the original Prey when it launched in 2006, this was certainly intriguing, and I look forward to seeing more. Other than the tales of the ill-fated Prey 2, I knew little of the series and thus this announcement was a little lost on me. That being said, the psychological thriller aspects, which will apparently feature throughout the game, are certainly interesting.
Once again the pace of the conference took a bit of a hit, as would be expected, as five free multiplayer modes and a new premium DLC pack featuring new weapons, demons and maps was announced for Doom. We then got to see some of the new changes to The Elder Scrolls Online, along with the announcement that all level restrictions will be removed later this year, meaning anyone can play anything in the world of Tamriel.
Arguably the biggest surprise of the show followed. Bethesda is working on VR titles, with the headliner being a fully playable version of Fallout 4 that is designed for the HTC Vive. Just how easy it will be to play long stints in Fallout 4 VR remains to be seen, but if the developer manages to get it right and makes it comfortable to play for hours at a time, I would genuinely consider buying a Vive just for it. At the BE3 post-conference show they also demoed a Doom environment in VR. Obviously with the legal issues surrounding Bethesda and Oculus, this was never going to appear on the Rift, so this can be marked as a big win for Valve and its Steam VR.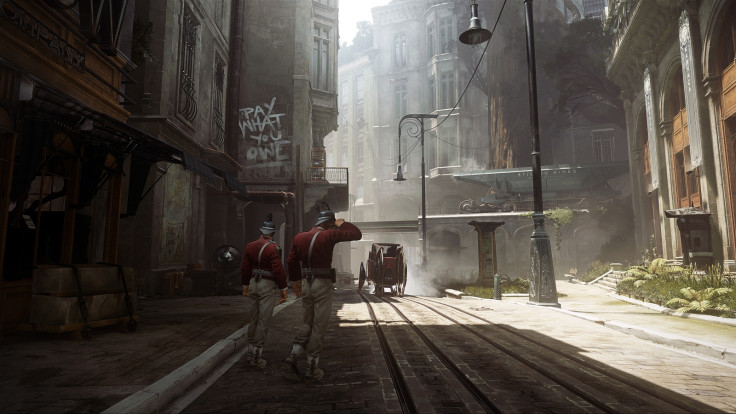 The show wrapped up with a lengthy demo of Dishonored 2. While actual gameplay was saved until the very end, the developers did show off some in-engine environmental shots that really set the tone for the rest of the section. They were quite frankly stunning, and the actual gameplay matched.
Set 15 years after the first Dishonored the sequel allows you to play as Corvo, from the first game, or Emily Kaldwin whose mother was murdered last time out. Both will have supernatural powers, although they will be significantly different. Corvo's abilities remain similar to the first game, but Emily is a whole new kettle of fish, with a shadow walkability that sees her become a large shadow beast that is capable of brutal kills. The new abilities will open up many new possibilities in the world, allowing the creative thinkers to flourish.
Visually Dishonored 2 looks stunning, the story sounds, at least in premise, to be slightly more engaging than last time, and the excellent gameplay from the first has been improved even further. A release date of 11 November was announced, meaning that you won't have to wait too long before you can try it for yourself.
This was a strong choice to end on, while not a new announcement and perhaps not quite on the scale of last year's conference, it rounded out what was easily the best press event of the day (sorry EA). There is still a lot to see at E3 2016, but so far it has been Bethesda that has stolen the show.