When EA Sports announced Fifa 17 last year, nobody was expecting its major new feature to be a story-focused single-player mode, but that's what we got in The Journey, which was about a promising young footballer's first season in the Premier League.
As major games increasingly look to multiplayer for longevity, EA introduced The Journey to add some value to its regular chart-topper and give the game a wider appeal to boot. It worked.
EA proudly boasted at the launch of Fifa 18, that of the 22 million people who played Fifa 17 last year, 13.5 million played The Journey. It's a figure most single-player games can only dream of.
Naturally, The Journey is back this year and it will continue the story of Alex Hunter, whose meteoric rise through the footballing world will this year see him venture abroad... well, possibly.
The teaser released at EA's pre-E3 showcase tonight (10 June) plays on the whirlwind of speculation and gossip that engulfs football during the summer transfer window. Will Alex Hunter move abroad?
Players will be given the option to when The Journey: Hunter Returns launches with the full game on 29 September, but exactly where they'll be able to move is being kept under wraps for now. There are some clues though.
This season's Journey will include a bigger cast of players "and celebrities" with speaking roles in the story, and one of them just so happens to currently be the best footballer in the world.
Will Cristiano Ronaldo be able to top Harry Kane's legendary performance? Time will tell, but his inclusion likely means the Spanish La Liga is a potential destination for Hunter. Tonight's trailer says Bayern Munich have been showing interest, suggesting Germany's Bundesliga as well.
EA isn't just changing the scenery in The Journey's second season. To remedy the common complaint that The Journey didn't include a custom protagonist, this year players have been given greater control over the the appearance of Hunter. This means a huge wardrobe of clothing, and most notably, an array of ridiculous, Paul Pogba-esque haircuts. Want to shave 'Hunter' into the side of your Hunter's head? You can.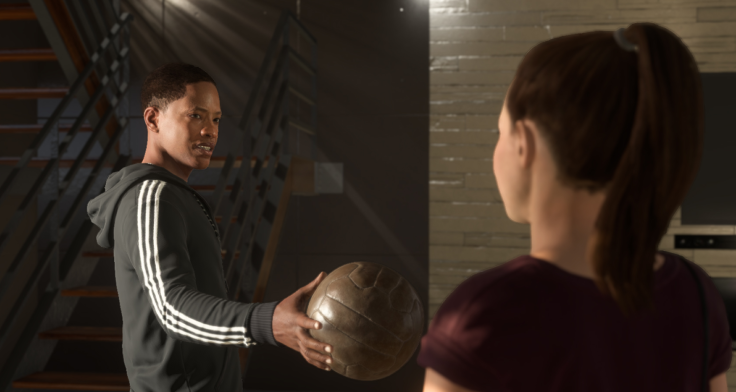 Cooperative multiplayer will also feature for the first time in the series. While this doesn't greatly alter the mode, it offers a new way to play. Alongside the options to control Hunter individually or the entire team he's playing for, two players will also be able to play any game during The Journey's season.
Interestingly, The Journey's second season will also include additional player-controlled characters. EA isn't ready to elaborate on exactly what this means, but we can assume players will be playing as other characters with or against Hunter, or as another character in another league altogether.
EA also wants players to have a clearer idea of Hunter's goals and the overall progression of the story. Hunter's Return will be split into six chapters with defined goals similar to those given to the player before each match. So, the player may be asked keep their player rating at an 8.0 average or get ten shots on target, but there will also be broader goals, such as winning a pre-season tournament.
Fifa 18's The Journey will hopefully build on the charms of last year's debut, which despite its melodrama and daytime TV feel, was confident enough to be endearing. There's little doubt that EA will improve on Fifa's story mode, but what makes its future appear so promising is that there's still so much potential for Alex Hunter's story.
Fifa 18 is out on 29 September on PS4, Xbox One and PC.
For all the latest video game news follow us on Twitter @IBTGamesUK.