Sepp Blatter has faced another indignity after comedian Lee Nelson showered the embattled Fifa head with fake dollar bills during a press conference.
Nelson's attention grabbing stunt came as Blatter was answering follow-up questions to journalists in Zurich after he announced elections for his replacement.
The comedian, dressed in a suit and tie rather than his trade mark cap, nonchalantly approached Blatter as he responded to the journalists.
When it became clear Nelson, who was initially believed to be an anti-corruption protestor, was holding a wad of cash, the outgoing Fifa chief began to look worried and started calling for his security.
Nelson, looking down news cameras as he was escorted away, threw the shower of notes over Blatter at the very last moment.
The prankster's management, Avalon UK, have confirmed to IBTimes UK that it was Nelson who threw the cash in Zurich but they declined to comment further.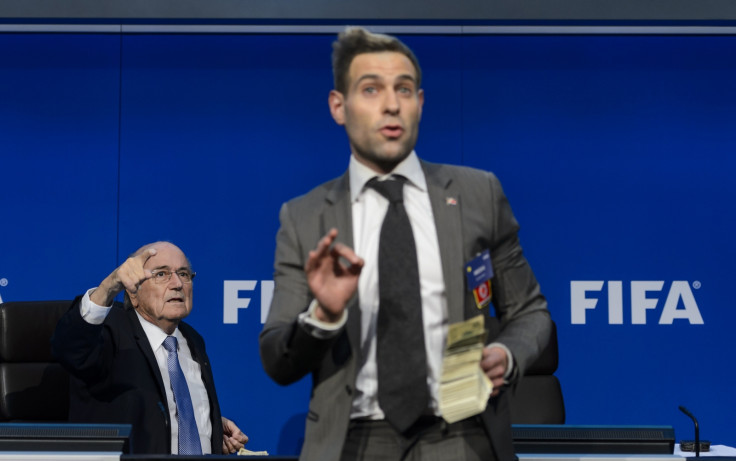 Nelson, whose real name is Simon Brodkin, has earned a reputation for walking on stage when he is not wanted. At the end of June 2015, Lee earned plaudits and critics in equal measure after he invaded the stage during Kanye Wests's headline performance at Glastonbury festival.
Earlier in the conference Fifa had announced it would elect its new president at an elective congress on 26 February 2016.
The vote will be held at Fifa's Zurich headquarters and comes after Sepp Blatter announced he would step down as leader in the wake of an FBI investigation into 14 football officials charged with corruption and bribery.
Blatter was assumed to have tightened his grip on the sport's governing body when he was elected to a fifth term as president in May, amid US officials launching an investigation into Fifa for alleged widespread fraud.
Four days after claiming the historic election victory, the 79-year-old said he would step aside as the most powerful man in football because he wanted to do "the best for football and Fifa".