Fifa presidency: Jerome Champagne to miss Sepp Blatter, David Ginola and Prince Ali battle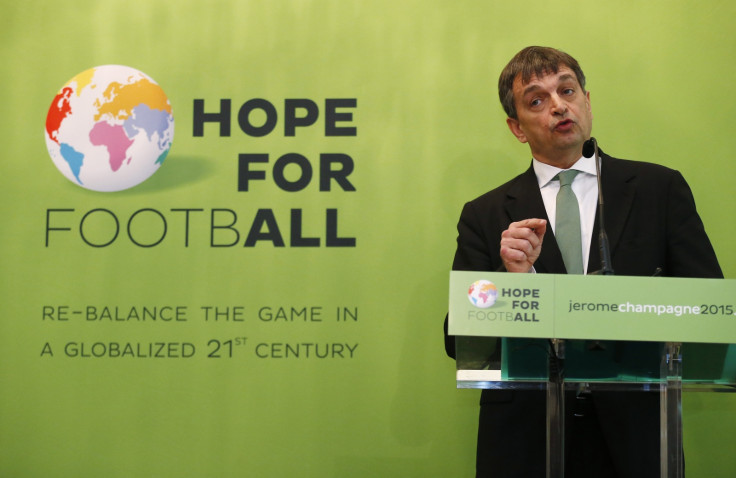 Fifa presidential candidate Jerome Champagne has admitted he may be unable to battle Sepp Blatter for the presidency of the world governing body as he is yet to get the support needed from FA heads.
According to rules introduced by Fifa in 2013, potential candidates must receive nominations from at least five member associations and they need to have been active in football for two of the previous five years.
The former French diplomat announced last year his intention to challenge Blatter for the election, which will take place at Fifa's Congress in May.
But he has since failed to obtain the minimum requirement for all candidates.
Champagne admitted he could miss the chance to battle Blatter unless he gets five letters by 29 January to confirm his candidacy for the May election.
"I want to thank the FAs which have already sent me their letters. Despite the fact that there had never been too many candidates nor eccentric ones, the statutes were amended in 2013 to restrict the eligibility to the Fifa presidential elections," Champagne said.
"Thus, while I would have already qualified under the old rules, I am still not a candidate under the new rules until I have five letters of presentation.
"I have privileged the defence of Fifa at the very moment when so many still hope to weaken it with the objectives of limiting the world governance of the game, or enslaving it for their own interests. I have also refused the demagoguery to blame only one person for all the wrongs in football when the responsibility is obviously collective.
"Finally, I have opposed the current simplistic analysis, according to which all is wrong in Fifa, by presenting a programme to continue what has been done correctly during the last 40 years and to change what needs to be changed. Despite all of that, I do not yet have all the five letters."
Meanwhile, Champagne also heavily criticised the other two rivals - Jordanian Fifa vice-president Prince Ali Bin Al-Hussein and David Ginola, after the former French international launched his campaign last week.
"The feeling exists that the final result of the election is set and that it would be risky to sign them," he added. "There is also the fear of being singled out or punished. And now individuals without a programme declare their interest, and gold-diggers openly use Fifa for their own benefit, rather than being of service."
© Copyright IBTimes 2023. All rights reserved.