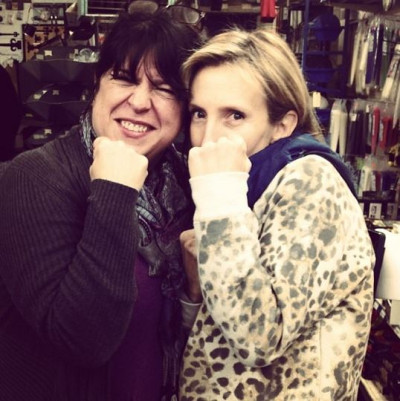 Fifty Shades of Grey author E.L. James has slammed reports claiming that there is tension between her and director Sam Taylor-Johnson.
It was reported by E! News that the 46-year-old visual artist is reportedly upset with the way the script is being handled, as James would like to stick to her books.
"Sam is getting annoyed about the way the script is being handled," a source said. "E.L. James wants the movie to match the book exactly, but Sam has a different perspective. Sam is reminding E.L. she writes books and she makes movies. This has caused some tension between the two of them."
The 50-year-old took to her Instagram account to joke about the rumour and posted an image with Johnson in a fighting pose, with the caption: "The gloves are off..."
Johnson was a massive surprise for the director role as she has only one feature film to her credit - Nowhere Boy, which is a 2009 biopic on late Beatle John Lennon's younger days. The film starred her husband, Aaron Johnson.
"She's creative, incredibly talented, she's got an extraordinary eye. She had a good idea about the whole Fifty experience, she understands it." James previously praised Johnson, "And I thought, There's a woman I can go and get drunk with."
Meanwhile, the film's raunchy scenes may not make the final cut.
"We're very conscious of not making anything gratuitous or exploitive while being faithful to the stories of the book and to fans of the book," film's producer Michael De Luca told Deadline. "We're going to give them what they expect, which is an intense and erotic love story."
"Obviously the film can't be as explicit as the book," De Luca explains. "A picture is worth a 1000 words. So to be erotic onscreen means I think an image is going to have way more power than reading the words on a page."
Fifty Shades of Grey is planned for release in February 2015.