Filipino police seize huge cache of arms and ammunition being supplied to Abu Sayyaf
National police Chief Ronald dela Rosa said most of the ammunition was traced back to government arsenal.
The criminal investigation and detection group of the Philippine National Police (PNP) seized a huge cache of arms and ammunition worth six million Philippine peso (£95,822, $124,458) that was reportedly being supplied to terrorist group Abu Sayyaf. The seizure was made in San Juan City at a residential building located close to the police headquarters.
Police seized the cache of high-powered arms on Saturday (24 September) from Unding Kenneth Isa, alleged leader of a gun-running syndicate. Police also arrested three accomplices of Isa, but released them later due to lack of evidence.
The cache of weapons included M203 grenade launchers, M14 and M16 rifles, and thousands of ammunition. PNP Chief Ronald dela Rosa told reporters, that most of the seized ammunition was found to be from the government arsenal. He said they suspected the weapon sellers of having some contact within the police department.
"Most of the ammunition was traced back to the government arsenal. All others are being traced," GMA News quoted the PNP chief as telling reporters during the press conference.
He added that Isa's group and some Abu Sayyaf members have been staying in Manila since August 2016 "to buy a cache of guns, explosive components, and ammunition upon orders of unidentified ASG [Abu Sayyaf Group] commander".
"The contraband was intended to be used to strengthen the ASG's armament in their fight against government forces in Sulu and Basilan as well as to intensify their kidnapping and bombing operations," the police chief said.
The Philippines Inquirer quoted him as saying that the arms sellers will be executed either by hanging or by firing squad. "You're giving arms to the enemy. So, death by hanging or death by firing squad. How I wish my firing squad gets to finish you," he said.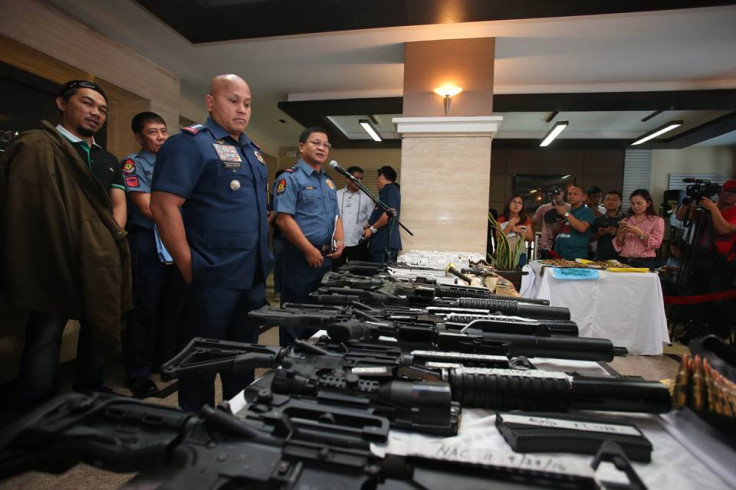 The acting director of the criminal investigation and detection group, Chief Supt Roel Obusan, said they acted on a tip-off about the arms business and seized the weapons. He added that they are interrogating Isa to know who he supplied the arms and ammunition to.
"We do it technically. We do not do it brutally," he said, adding that they will follow leads to find the truth if Isa does not give any information.
© Copyright IBTimes 2023. All rights reserved.