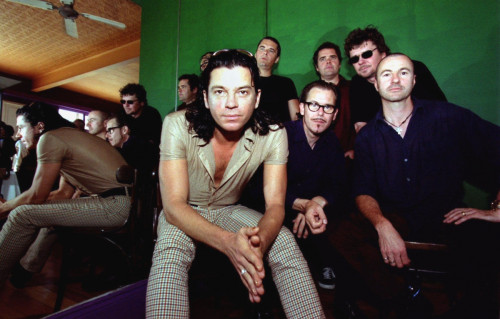 Police inspectors who headed the investigation into the death of INXS lead singer Michael Hutchence tell of infected cigarette burns and drug addiction.
Former detectives Mark Smith and Michael Gerondis have described for the first time the scene inside the singer's room at Sydney's Ritz-Carlton hotel in November 1997.
There were dark nicotine stains on his fingers and an old cigarette burn so deep it exposed the bone.
"The cigarette went right through his fingers and it was sort of infected," Gerondis said in Sydney's Sunday Telegraph.
There were also signs of an attempt by Hutchence to buy drugs and when that failed, the Australian singer went through a dustbin to find any dregs of cocaine.
In this bin, the detectives also found the last song of the INXS frontman, screwed up and thrown away.
"He was trying to get some cocaine but he did not get it so he was going through the remnants of the bin," Gerondis said.
The detectives found the bath filled with water as if Hutchence had been preparing to wash before hanging himself with a belt.
A maid found the body at 11.50am the next day when she tried to enter the room.
"The maid could not get in because he was behind the door and as she pushed the door the belt snapped and he fell down. Poor maid," Gerondis said.
Coroner Derrick Hand ruled that a depressed and drug-affected Hutchence had taken his own life, upset over a battle for custody of his girlfriend Paula Yates's children which was opposed by her former husband, the singer Bob Geldolf.
An analysis of Hutchence's blood indicated the presence of alcohol, cocaine, Prozac and prescription drugs.
Coroner Hand said: "On consideration of the entirety of the evidence I am satisfied Hutchence was in a severe depressed state on the morning of 22 November 1997.
"This was due to a number of factors, including the relationship with Paula Yates and the pressure of the ongoing dispute with Sir Robert Geldof, combined with the effects of the substances that he had ingested at that time.
"I am satisfied the cause of death was 'hanging'".
Yates stated that the deceased sounded "desperate", while Geldof refers to the deceased's demeanour as being "hectoring and abusive and threatening".
However, Yates never accepted the coroner's suicide verdict, insisting that his death by hanging was an auto-erotic sex game gone wrong.
Gerondis said Yates recounted in graphic detail the sex games she would play with Hutchence in which he would strangle her during sex.
"She was shouting at us, everyone was listening in, and I thought: 'How embarrassing is this?'," Gerondis said.
Watch the documentary on INXS star Michael Hutchence on YouTube, below: