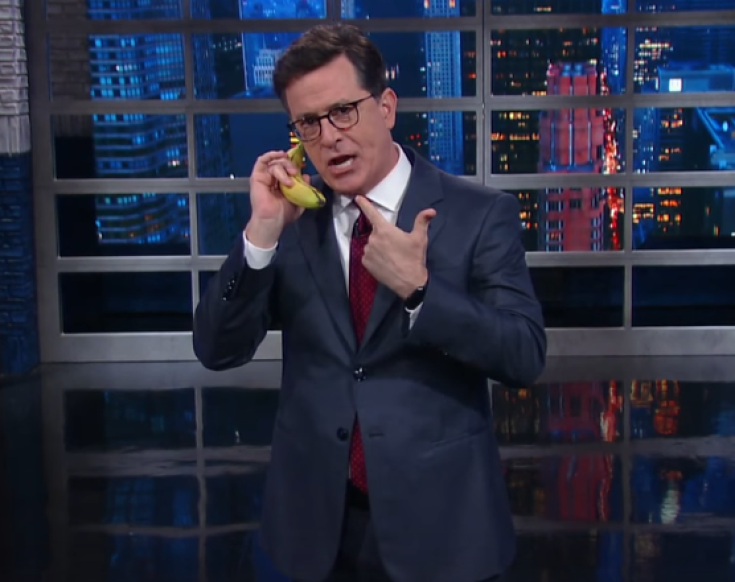 Stephen Colbert owes much of his current success to Donald Trump. After all, his dislike for the US president and resulting diatribes have made the Late Show host one of late night TV's favourite Trump critics. But it looks like Colbert may have taken it a step too far in his 1 May monologue.
The show launched with a look at Trump's recent interview with Face The Nation host John Dickerson, in which the president decided to attack his interviewer by calling his show "fake news".
"I love your show. I call it Deface The Nation," he said.
While Dickerson took the jibe calmly, Colbert decided he had to stand up for his fellow CBS personality and jumped into a scathing attack of Trump.
"I Sir, am no John Dickerson," he said, addressing the president directly. "Mr Trump, I love your presidency... I call it disgrace the nation. You're not the Potus, you're the 'Blotus'. You're the glutton with the button. You're the regular 'Gorge' Washington. You're the presi-dunce."
While the remarks were pretty pointed already, Colbert was on a roll and continued his lambasting. "Sir, you attract more skinheads than free Rogaine," he said. "You have more people marching against you than cancer. You talk like a sign language gorilla that got hit in the head. In fact, the only thing your mouth is good for is being Vladimir Putin's c**k holster."
It came as no surprise that Trump supporters took offense to the harsh attack and demanded that CBS fire Colbert, and that advertisers pull out sponsorship of the show. #FireColbert started trending soon after.
Despite the numerous complaints against the TV personality, his supporters also logged in on Twitter to have their say and support Colbert's statements.