Ahmad al-Faqi al-Mahdi, an al-Qaeda jihadi – who begged the International Criminal Court for forgiveness for his destruction of holy sites in Timbuktu – has been given nine years in prison by judges in the Hague.
Mahdi, who estimates his age at 45, is the first defendant to be found guilty of Islamist-related charges by the ICC. The radical claimed in his defence that he had been caught in an "evil wave" by al-Qaeda when he joined the Islamist group, according to Reuters news agency.
Al-Qaeda took power in Mali's second city after hijacking an ethnic Tuareg rebellion in the country's Saharan north.
The group then imposed Sharia law in the city and across the vast tracts of land they had seized. The crisis prompted a French intervention in the country in 2013.
Ansar al-Dine, Mali's al-Qaeda affiliate, destroyed 14 of 16 historic mausoleums in Timbuktu in 2012. Al-Mahdi was handed over by Niger's government after the ICC issued a warrant for his arrest.
As a part of his plea agreement both the prosecution and the defence requested a sentence of between nine and 11 years in prison. However, judges were free to ignore the recommendations and give a sentence of up to 30 years.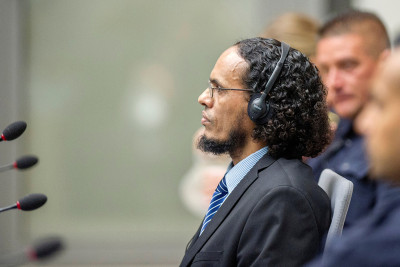 Mahdi admitted to the charges of involvement in the destruction. Prosecutors said that he led a squad of morality police which destroyed nine of the mausoleums and a mosque in Timbuktu. Followers of the branch of Salafist Islam, to which al-Qaeda subscribes, view reverence for the shrines to the city's founders as sacrilegious.