Microsoft's E3 press conference is poised to be the most interesting at this year's trade show because we know so little about what will be there and there's so much at stake for the future of Xbox.
Project Scorpio - the immensely powerful Xbox One hardware upgrade coming later this year - will be the focal point. We'll get a proper name for it, a release date and possibly a price point, but otherwise the focus is expected to be on games.
We can assume this because Microsoft revealed the console's specs back in April, clearing the way for an E3 free of nitty gritty techno babble that can focus on the games Scorpio makes look like a dream.
We've already run through all the games and announcements that Microsoft may have in store, but in this article we'll tackle the show a little differently. Ahead of the event itself on Sunday 12 June at 10pm UK time, here's what we hope to see from the show.
Crackdown 3 picks up the slack
The four major Xbox exclusives fans can count on being at the show are Rare's Sea of Thieves, survival game State of Decay 2, the inevitable new Forza Motorsport outing and Crackdown 3.
It's been three years since Crackdown 3 was announced and it's safe to say that because we haven't heard much from it during the time since, development has been trying.
If it's to be one of the stars of Microsoft's show this Sunday, let's hope it makes a triumphant return, reigniting interest in the franchise and making up for what could be a lacking array of big first party games.
New IP
It's been difficult to gauge what Microsoft could feasibly announce at the show beyond this year's Forza sequel. It's for this reason that Xbox boss Phil Spencer and his team has such a capacity to surprise, and there's no better way of doing that than with some new IP.
Xbox needs new games and new ideas. Halo and Gears of War are in good health, but what's clear is that they don't have the appeal that they once did and Xbox needs something fresh.
A new IP is always exciting to see announced and Microsoft could potentially steal the show.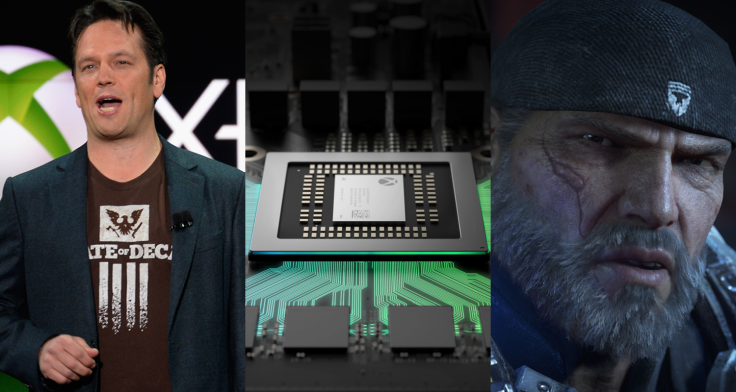 Get the Gears gang back together
Despite our hope that there's a new IP, it's understandable that Microsoft would want one of its recognisable series to make an appearance in support of Scorpio. We know Halo 6 won't be at E3, but 343 Industries will be there with something, but what about Gears of War?
The Coalition impressed with the fun Gears of War 4 last year, but given that game only released a few months ago means Gears 5 is clearly off the cards. So we wondered about a potential standalone expansion, and came up with an idea.
Imagine Microsoft teeing up an expansion, sold separately like The Last of Us: Left Behind or Wolfenstein: The Old Blood, that's around six hours long and stars the original Gears of War cast?
Seeing curmudgeonly old Marcus with Baird and Cole at the end of Gears of War 4 was fantastic, and a short adventure starring them would be both entertaining and appeal to Xbox fans.
Positive indie selection
As discussed in our hopes for Sony's conference, the PlayStation showcase doesn't appear to have much for a varied slate of indie games. What we hope Sony does is find the time, but Microsoft is well positioned to give indies plenty.
Microsoft's relationship with indies took a hit after the glory days of Xbox Live Arcade, but with games like Tokyo 42 and upcoming games Cuphead and Tacoma, the situation has clearly improved.
The problem is that smaller indie games won't be the best games to show off the improved visuals Scorpio's processing power will offer, but they are valuable for attracting a wide audience to a platform and showing off the breadth of what gaming is capable of.
Don't flog the Minecraft horse
Microsoft has been the proud owner of Minecraft and developer Mojang for a few years now, and each year they've wheeled the game out to make sure everyone knows it.
This has led to the impressive HoloLens demo, and last year the less impressive announcements of cross-platform mobile play and virtual reality support through Samsung Gear VR.
Unless there is big news, Microsoft shouldn't be flog the Minecraft horse.
For all the latest video game news follow us on Twitter @IBTGamesUK.