Sony's showcase will garner the most attention of all those taking place before and during gaming's annual trade show E3 in a couple of weeks. It's understandable, they're the market leaders, but they'll have to do a lot to meet the lofty expectations of fans.
Expectations are so high with good reason. Sony enter E3 2017 off the back of two blockbuster press conferences highlighted by huge, headline-grabbing announcements including Final Fantasy 7 Remake in 2015 and God of War last year.
We've already run through the many possibilities when it comes to games and announcements Sony might have in store, but in this article we'll tackle the impending show a little differently.
Ahead of the event itself on Monday night, 13 June at 2am UK time, here's what we hope to see from Sony's show.
Sucker Punch
It's been three years since Sucker Punch released Infamous Second Son and expansion First Light, so the timing is bang on for the Sony studio to show off what it's been working on in the interim.
Infamous certainly has its fans and Second Son was a fun game in the early days of the PS4, but our hopes are pinned on seeing something new. Quite what that actually will be though, is difficult to say.
Release dates
Sony has dominated this console cycle, but it's impressive library of PS4 exclusives have all suffered from delays. Each major release that either was released last year or originally planned to - that's Uncharted 4, Horizon: Zero Dawn, No Man's Sky, The Last Guardian, GT Sport - all suffered delays.
Delays have consistently disappointed fans of Sony, so when it comes to God of War, Days Gone and Spider-Man this year, people want release dates they can be confident Sony believes in.
Keep Kojima and Death Stranding away
Death Stranding, the first project of Hideo Kojima's post-Konami, post-Metal Gear Solid career, was a surprise announcement last year, but the game is still in the very early stages of development.
It's a very long way off, and the best thing for all involved is for Kojima and his team to steer clear of major events like E3, get their heads down and crack on with making whatever it is Death Stranding ends up being.
People have grown weary of waiting years between games being announced and games being released, and increasingly we're seeing video game companies shorten the span between talking about and proving a game's merits.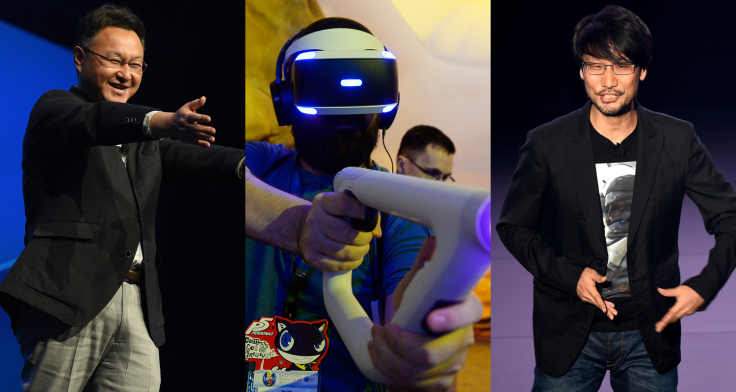 PlayStation VR love
PlayStation VR was a major hardware release and has, as Sony said back in February, sold better than expected. In February Sony revealed 915,000 units had been sold, so by E3 it may well have cracked 1 million.
What better way to mark the milestone than with a show of support for virtual reality? PSVR owners want new games, and they want Sony to appear interested in continuing to provide them.
Rumours in May stated that Sony Santa Monica is at work on a PlayStation VR described as being part of a '2nd wave' of releases Sony is working on. Here's hoping.
Don't forget the indies
With everything expected to be at Sony's press conference and everything that may or may not turn up, there's not a lot of room for indies to get their time to shine unless Sony makes room for them.
Sony's indie support has been strong on PS4, but the presence of indies at the company's E3 showcase has diminished over the past few years. In 2013 Sony gave a demoed a wide array of games live on-stage and all at once, showing quickly and succinctly the variety of indie games heading to PS4 at the time.
More of that please.
For all the latest video game news follow us on Twitter @IBTGamesUK.