Five: Messenger app allows deaf people to communicate quickly via hand signs instead of typing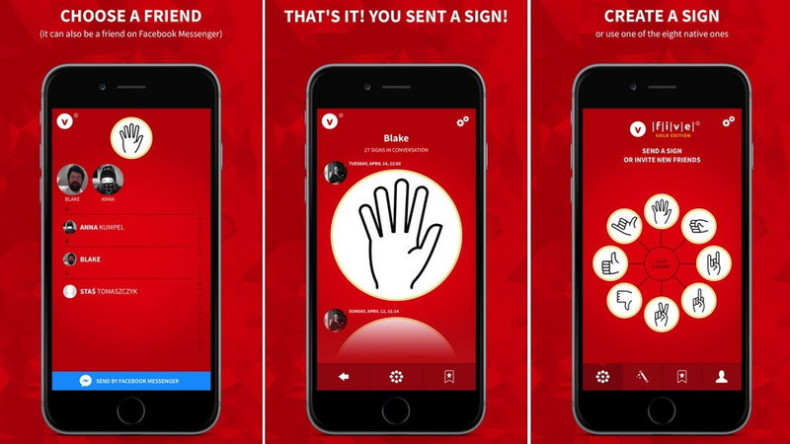 A Polish teenager has raised $150,000 (£104,310, €137,440) in funding to help expand a smartphone app that enables hearing-impaired people to communicate using hand signs rather than having to type messages.
Mateusz Mach, 18, from Lebork in north west Poland, likes developing apps. In 2014, he taught himself enough skills to create a blogging app called Sagepark.pl that allowed users to publish and share their own reviews and articles about new technology, art and media. The app had 10,000 users at its peak.
Then in May 2015, he decided to launch Five, a fun iOS, Android and Apple Watch app for hip hop fans that would let them trade custom hand signs similar to those that rappers have made popular, by tapping on buttons illustrated with different hand positions in the app.
But although Mach and his friends enjoyed using the app, it wasn't wannabe rappers who were clamouring to download to it. Instead, more and more people with hearing impairments began contacting Mach, thanking him for making an app that was actually enabling them to communicate with each other using International Sign Language (ISL).
"Currently about 10,000 people are using the app. We are talking about deaf people in US, Poland, China, Japan and UK. We started receiving feedback from deaf people within two weeks of launching the app, even before I received feedback from my own friends and target audience," Mach told IBTimes UK.
Deaf people think in a different way to people who can hear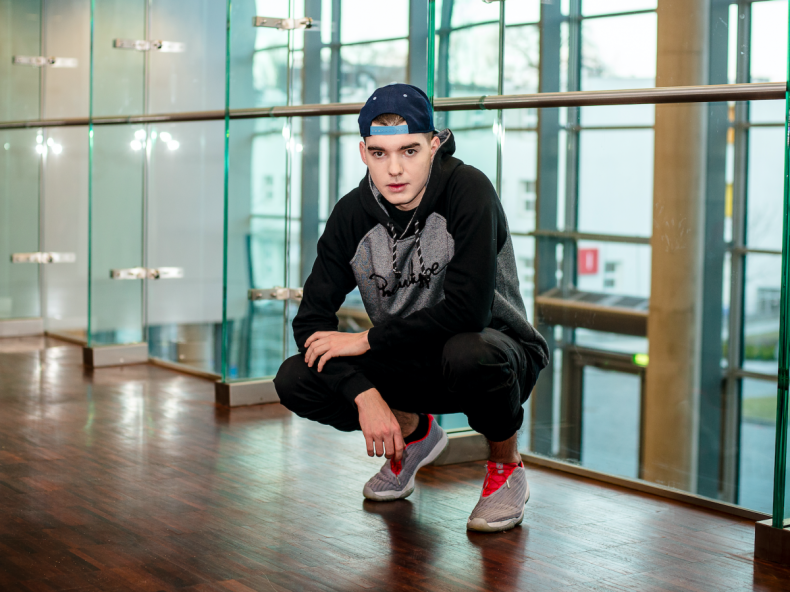 People who can hear or who have been able to hear at some point in their lives would likely have learned speech perception when they attended kindergarten or nursery school as children, as they would have been taught how different letters in the alphabet sound, and how those letters sound when put together to form a word.
However, 80% of all people who are deaf would have learned to communicate in a more visual way, and while they can grasp what words mean, they have no reference to how a word sounds and thus, they have no "inner voice". So to a deaf person, communicating by typing can be tedious, but being able to send hand signals would make for much more natural, fast communication.
After receiving this feedback, Mach decided to continue developing Five to include a complete ISL (International Sign Language) dictionary so that users would be able to select common words and phrases, and he received funding from a local investor so that he could hire two contract coders to help him work on the app when he wasn't in school studying for an international baccalaureate diploma.
Mach still hasn't left high school, yet he has managed to raise a decent amount of venture capital, which is difficult even for seasoned entrepreneurs in Poland.
The struggle to be taken seriously at just 18
"90% of all venture capital firms in Poland are all linked with the European Union, and the procedure is very complicated and it's very difficult to prove the experience of an 18-year-old, as the EU has forms where you need to list your previous experience. Based on analysis of what you put on the form, they decide whether to give you the funds or not," said Mach, who said he wore his baseball hat and hip hop-style clothes to each meeting with stiff, suited investors.
"I simply messaged almost every single venture capital fund in Poland, and to my surprise we found one of the biggest venture capitalists in Poland that also had a lot of private capital. I felt that we had a good business model because there is a big target group of people who would be interested in this product."
According to the United Nations, there are 360 million people with hearing impairment in the world and more than two million deaf people in the US alone, with 90 million deaf people all over the world.
Mach has achieved his aim and brought on investor and designer Piotr Polanski as a co-founder, as well as employing sign language interpreters and sign language academics from multiple universities. Even better, he's even secured a partnership with the United Nations, with the short-term aim of developing Five so that it can be distributed across the US, and later to other countries too.
A free version of the app is currently available to download and is being expanded. Meanwhile, the paid version of the app will have 800 ISL signs and is expected to cost $3-$4 per download when it is released in June.