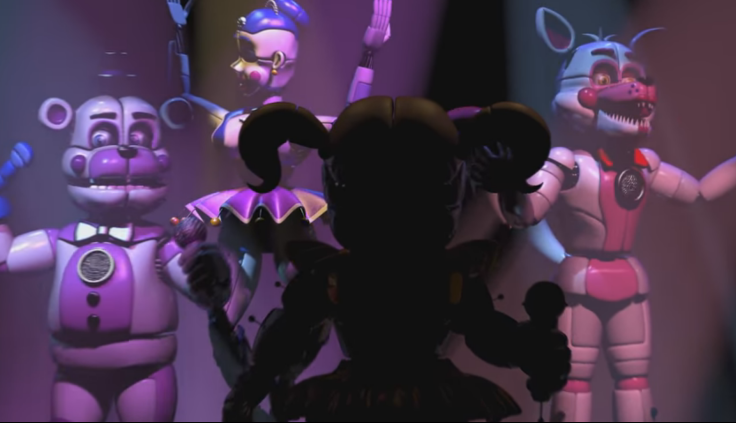 Five Nights at Freddy's upcoming spin-off Sister Location could be delayed by several months because it's too dark, franchise creator Scott Cawthon said. According to a post on the horror game's Steam page, Cawthon teased that the latest entry in the popular survival horror series could be postponed and is "not really sure when it would be released". The game was scheduled to release later this week on 7 October.
"There are certain plot elements that are very dark, to the point where I sometimes feel sick," Cawthon said in a post published on 4 October. "There would be no easy fix to this. I either release it Friday as it is, or I delay it by several months to completely rework the plot into something kid-friendly.
"I'm unsure what I'm going to do. As always, thanks for your support."
Although delays in the gaming industry are quite common, it is unusual for a game to be pushed back just days before its scheduled release.
Fans of the popular survival horror series are expectedly upset about the announcement, particularly about the developer's reasons to suddenly delay the game because it might be to scary and not "kid-friendly" enough.
While some fans begged the developer to release the game as scheduled, some irked gamers said the developer could simply be trolling to gain publicity and could possibly release the game earlier as he did so for previous titles in the series.
"The darker the better I say," wrote Steam user Alfrigg. "It is a horror game after all. I was honestly thinking of buying Sister Location as I hadn't actually played a FNaF game before. I probably wouldn't play it if it were too cutesy."
Another user wrote: "I prefer it to be scary because that's what horror games are all about. I've been waiting for a very long time to play this, and it's so close. Though knowing you, we've known your history as a troll. But if you aren't trolling us and you then decide to rework the game, and postpone it for a while, I can imagine millions of five-year-old FNAF fans losing their s**t (no insult intended)."
In May, Cawthon released a creepy minute-and-a-half long teaser trailer of the horror game showing off a cast of four frightening, deranged animatronics including Freddy Fazbear, Mangle, a ballerina, and a new, horrifying pig-tailed robotic clown doll dubbed by many YouTube users as "Baby".
The indie point-and-click game's description reads: "Welcome to Circus Baby's Pizza World, where family fun and interactivity go beyond anything you've seen at those *other* pizza places! With cutting-edge animatronic entertainers that will knock your kids' socks off, as well as customised pizza catering, no party is complete without Circus Baby and the gang! Now hiring: Late night technician. Must enjoy cramped spaces and be comfortable around active machinery. Not responsible for death or dismemberment."
The horror franchise has released four titles for PC and mobile platforms since August 2014. In January, the developer released a PC role-playing game spin-off, Five Nights at Freddy's World, to poor reception due to several missing baseline features. Cawthon later pulled the game from Steam just a week after its launch to polish the game's features.