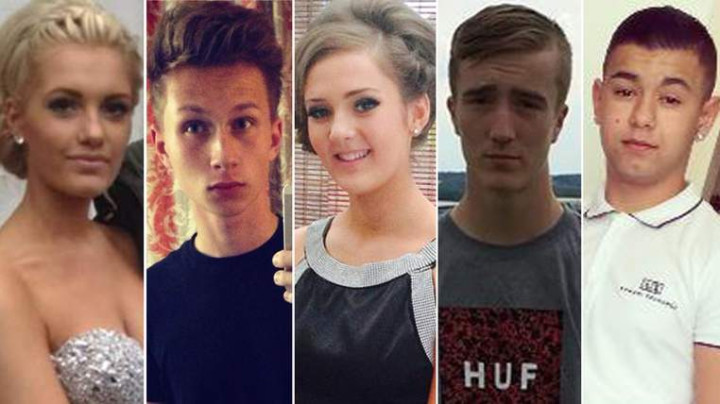 Five teenagers have died following a three-car crash in foggy conditions in Conisbrough, Doncaster.
Megan Storey, 16, Arpad Kore, 18, Blake Cairns, 16, Bartosz Bortniczak, 18 and Jordanna Goodwin, 16, were all travelling in the same blue Toyota Corolla when the accident happened at 9.40pm.
A man in a grey Seat, involved in the crash, on the A630 outside Conisbrough, was taken to hospital with a broken leg.
A 21-year-old man from Doncaster, who police believe may have been driving a third vehicle involved in the incident, has been arrested on suspicion of causing death by dangerous driving. He has been released on bail.
The five teenagers are believed to have met up with the 21-year-old driver at a McDonald's restaurant in Doncaster before the crash.
Inspector Pete Serhatlic, of South Yorkshire police, described the crash scene as "absolutely horrific" adding: "There are no other words to describe it. I'd rather not go into any details about what it was like but it was extremely traumatic."
A local resident said: "We just heard a thud, just like a car door closing. That's all. Then the wife saw the blue lights and we went out and it was just terrible."
The four passengers in the Toyota all attended the same sixth form, Danum Academy, in Doncaster.
Rebecca Staples, head teacher at the Academy, released a statement saying books of remembrance had been opened at the school, which would stay open until 7pm for students who wanted to pay their respects.
Ms Staples said all the teenagers were popular in the community and the school.
"Each one of them has a special place in each of our hearts. They had tremendous lives ahead of them. Grief is already spreading across our community. Our thoughts remain with the families and friends of these wonderful young people."
Not far from Saturday's crash are memorials to three teenagers who died in another car crash in January 2011.
Insp Serhatlic said: "It's the second multiple fatality within a short space of time but it's not really a location where you consistently get road traffic collisions of a serious nature.
"It's just that the ones you do get on that stretch of road seem to, unfortunately, involve multiple deaths."
South Yorkshire Fire and Rescue service posted on Twitter: "We send our deepest condolences to the families affected by the fatal RTC we attended last night."
Officers have appealed for anyone with information about last night's crash to contact South Yorkshire Police on 101, quoting incident 1123 or 15 November 2014.
Alternatively call Crimestoppers anonymously on 0800 555 111.