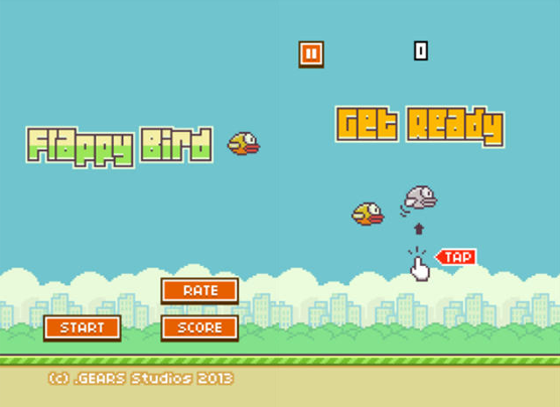 Flappy Bird developer, Dong Nguyen, has reconfirmed to a fan query via Twitter that his popular game title will return to App Store.
Here is what Nguyen tweets in response to his fan query: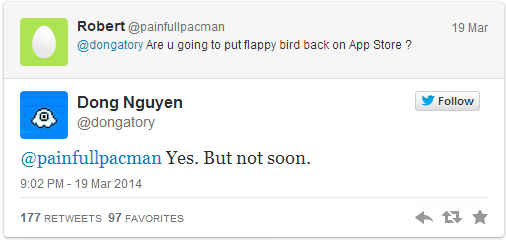 As Gawker reports, the game developer has not yet revealed any specific re-release date for the game as he was last seen at the ongoing Game Developers Conference (GDC) in San Francisco. Those who met him at the event have reportedly revealed that Flappy Bird game is definitely on its comeback trail.
Here is another tweet from game developer Todd Moore, who apparently met the Flappy Bird creator at GDC 2014:

In response to another fan query, Nguyen tweets about releasing an improved version of the game to App Store: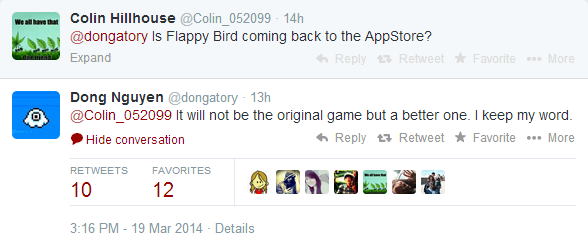 Apart from earning top honours from the mobile gaming community for its simplicity and yet challenging gameplay, the Flappy Bird game went on to accrue a record-breaking ad revenue of more than $50,000 per day within days of its release on the App Store.
Millions of people around the globe have still been hooked to this game even after it got pulled out of the App Store by its developer. Just by engaging people with his Flappy Bird game, its developer is said to be still earning good money out of Ad revenues.
Earlier this month, Nguyen had revealed in an exclusive interview with Rolling Stone that he removed the game from App Store owing to all the unwanted attention and was contemplating the issue of re-releasing Flappy Bird via App Store.
Here is an excerpt from the interview:
"Since taking Flappy Bird down, he says he's felt "relief. I can't go back to my life before, but I'm good now." As for the future of his flapper, he's still turning down offers to purchase the game. Nguyen refuses to compromise his independence. But will Flappy Bird ever fly again? "I'm considering it," Nguyen says. He's not working on a new version, but if he ever releases one it will come with a "warning," he says: "Please take a break."
Several clones of the original have taken turns at the top of gaming charts in Android and iOS market for the last few months, following the removal of Flappy Bird game from the App Store. Given the official announcement of the original game making a comeback from its developer, the hype behind the cloned versions seems to be dying out rather quickly.